Italian-style edible centerpieces
How to decorate a table for a full Italian menu with edible arrangements
What about some edible centerpieces fo your Italian style dinner menu? Here are some ideas with the items you need.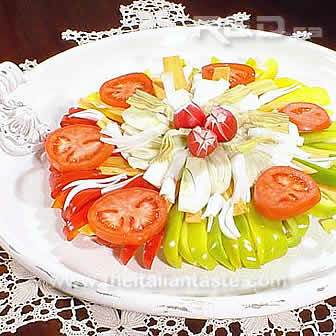 You'll need (only for pinzimonio dish)
- A red bell pepper
- A green bell pepper
- A yellow bell pepper
- An artichoke
- Some radishes
- A fennel
- 2 carrots
- 2 ripe but firm tomatoes
- Some young and fresh onions
- Some sauces to dip all vegetables
How to do an edible centerpiece to decorate your table for a dinner party, Italy-style
In my opinion, edible centerpieces are the ideal solutions when you have to set the table for dinner with friends because flower arrangements are often bulky. Many times, it has happened to me to prepare flower decorations and then ... having to remove them! So I prefer to prepare a flower arrangement in a vase far away the table. But remember flowers arrangements are unmissable in formal dinner parties provided they are not high, unscented and not bulky.
Edible centerpieces must be placed on the table just before serving.
- The first example you can see is a very colored "pinzimonio", that is assorted raw vegetables accompanied by dips. Use your imagination to arrange all your vegetables already cut and ready to eat. The more colored vegetables you'll use, the more beautiful your dish will be! Remember to use seasonal vegetables. You could use pinzimonio as starter.
Generally, I prepare the example in the photo in the late summer and early autumn.
Interested in Italian sauces? Follow the link!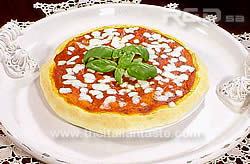 - The second centerpiece idea to use as starter could be Pizza Margherita!
My tip is to place the round serving platter with your pizza on a second serving platter that must be bigger then the first. Divide your pizza into slices in order your guests can serve themselves easily.
If you want some ideas to make Italian pizza ... follow the link ;)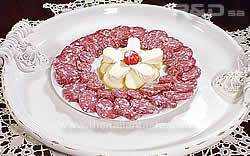 - But you could choose to serve a rich dish full of salami and different kinds of Italian cheese as starter. You should accompany it with tasty bread. Look at the photo on the right! Isn't it very beautiful to see?
Other assorted appetizer platters here!
- Other ideas in the coming days!
Rate this!
Rating: 5 / vote cast: 1