Learning good dress sense
Office dress code

I'm going to tell you the office dress code advisable for an interview too.

Let's start with women.
We're used to look career women at TV that are played by actresses with skirted suites (correct!) combined with high-heeled shoes, heavy make up and showy hairstyle (wrong!)
Dear women, if you want to go up the ladder or you have an interview for a job, avoid extremes and excessiveness!
Suit is the best choice; dresses aren't always viewed as "professional". Prefer skirted suit rather than pant suit if you aren't sure it is accepted in the organization. Your skirt should be no shorter than 1 inch above knee cap and it shouldn't have extreme split The colour? black, blue navy, grey, brown, beige, dark green; pastel colours are admitted only when you are well-known career women. Avoid red, you could appear aggressive!
Blouse: made in cotton or silk, well-combined with your suit. Be careful to the neckline: no low neckline! You have to point out your competence and cliverness not your figure!
Don't forget hose! Wear low-heeled, confortable, conservative shoes. Your shoes must be polished. Don't wear sandals; your naked foot could appear too sexy.
Jewelry: it is admitted but remember to coordinate them in terms of metal (gold or silver). A simple watch, one ring per hand, small earrings, a necklace are okay. No piercing!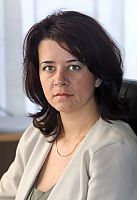 Make-up should be natural. Natural lipstick is preferred. It's horrible to see lipstick on your teeth! The parfume must be very light. Nails should be trimmed and it is a distinctive sign not to wear polish.
Complete your clothes with a little purse or a small briefcase.
You could dress "business casual" for specific events. Be sure to be able to do it.
Dress casual pants or skirts combined with long-sleeved shirts or blouses when it is cold; in the summer you can choose short sleeves but remember not to expose too much skin and your shirt must not see-through. Wear confortable, conservative shoes with low heels. No tennis shoes or sandals!
Guidelines for jewelry, make-up and hairstyle are the same we have already told above.
Guidelines for men.
You should wear a two-piece matched suit in a conservative colour such as navy, brown or dark grey. I suggest to avoid black, it's too funereal! Solids or subtle weave patterns are advisable. Combine a long-sleeved shirt (short-sleeved shirts are admitted in summer in some organizations, fortunately). The colour? white, pale blue or very light pink. You have to wear the tie too! It's a must! I know men hate it in many cases but if you want to be a career man, you have to follow this rule. Choose the tie very well; it must be not showy.
Wear brown or black leather shoes. Your shoes must be polished!
Be careful to the lenght of your socks. They must not be so short to show skin when you sit down, you have to pull them up over your calves. Match their colour with the suit.
Wear a simple belt and combine its colour with your suit and shoes.
About jewelry? A conservative watch and wedding rings are okay but remove any piercing or earring.
Use a very, very light cologne.
Carry a small, leather briefcase. You are perfect!
You could dress "business casual" for specific events. Be sure to be able to do it.
Neatly pressed pants are a successfull choice. The colour? khaki, blue, brown, grey. Combine it with a long-sleeved shirt (more formal) or a short sleeve golf shirt (less formal). Areyou not sure what are the most appropriate clothes? remember that if you want to avoid to make a bad impression the best choice is to overdress and not to underdress.
You haven't to wear the tie in the casual business events.
Leather shoes, well-combined socks and belt will complete your clothes! Athletic shoes, hiking boots and sandals are not okay even in summer.
The rules for jewelry and cologne are the same we have already told above.


Rate this!
Rating: 5 / vote cast: 1