Learning good dress sense
How to dress our children for a ceremony
It's difficult to dress our children for a ceremony. We have to persuade them to wear something elegant according to the style of the ceremony but they have not to be under the inpression of being stilted. Children must be spontaneous not stiff!
Therefore avoid extremes and excessiveness!
Let's begin with an important ceremony: the wedding. Your kid must be the pageboy or the bridesmaid.
Don't dress your kid as a little man with a suit, he might look as a midget; look at the first photo!
Don't dress your kid as a little woman. Look at the second photo: the crown and the neckline are suitable (perhaps) for a woman not for a little girl. How spontaneous and charming are the bridesmaids of the third photo!
Then what are the right clothes? Artlessness is synonymous of elegance according to the Italian taste. So knee-trousers and waistcoat in the same fabric combined with an elegant shirt are suitable for a little boy (it's an example). Satin or organza or tulle dress is suitable for your little girl; you may trim it according to your fancy but remember the suggestions above.
In Italy we use to dress our children with a simple habit for the First Communion so we succeeded in canceling all the differences among the children. Look at the fourth photo!
A great elegance isn't required for the Confirmation; we have only to remember that we are obliged to respect its code of conduct when we go into a church.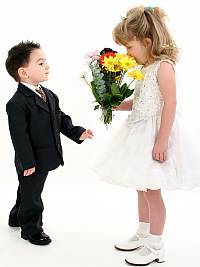 first photo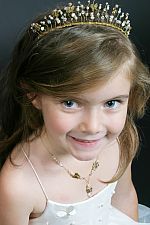 second photo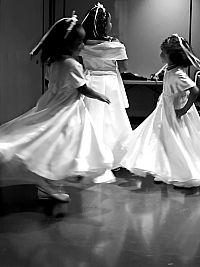 third photo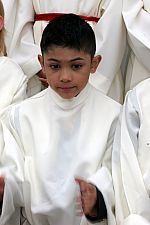 fourth photo
Rate this!
Rating: 5 / vote cast: 1