Sage canapes

( Tartine di salvia )
Our original home cooking
Baked breaded sage leaves, used as a base for canapés. Have you ever seen giant, fragrant sage leaves? I have. Every spring my plant in the organic garden gives them to me for a few weeks, before I prune it. So I'm free to create new recipes. That is how this idea was born. I assure you that these canapes are really delicious. My husband and I have dinner with them too!
difficulty: easy
time: 55 minutes
calories: 262 (kCal)
Ingredients / Serves 6
24

fresh, giant sage leaves

150g (5 1/3 ounces)

plain dried breadcrumbs

2

eggs

50ml (1 2/3 fluid ounce)

skim

milk

6

quail eggs

50g (1 3/4 ounce)

raw ham

150g (5 1/3 ounces)

frozen prawn tails

1 tablespoon

dried chives

60g (2.1 ounces)

mozzarella cheese

3 tablespoons

extra virgin olive oil

Mayonnaise

Salt
Difficulty:

easy recipe

Time:

preparation:

30 minutes


cooking:

25 minutes


total:

55 minutes

How many calories in a serving?

Calories:

262 (kcal)

14 %

- 1095 (kJ)
Protein:

12.1 (g)

25 % GDA


Total fat:

15.1 (g)

22 % GDA


Total carbohydrate:

21.3 (g)

8 % GDA


Sugars:

3.1 (g)

4 % GDA
Download free PDF version (121 download).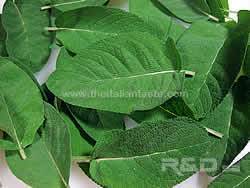 Sage canape recipe
Preparation and cooking
- Prepare prawns and quail eggs.
Cover quail eggs with cold water, bring to a boil and cook, 4 minutes. Once cooked, remove them quickly from hot water and run under cold water. You'll shell them faster. Put them apart.
Cook prawns according to the instructions on the package.
- Prepare and cook sage leaves.
Lay leaves on a cutting board.
Clean them rubbing both sides very gently with absorbent kitchen paper, wet and well squeezed.
Put the two eggs in a bowl, salt them lightly and add chives and milk. Beat all with a fork.
Put plain dried breadcrumbs in a plate.
Preheat oven to 180°C (350°F).
Line two large baking pan with oven paper.
Grease oven paper with 2 teapoons olive oil.
Dip every sage leaf first in beaten eggs and then in breadcrumbs.
Place all leaves in baking pans.
Bake, about 15 minutes or less. Baking time depends on leaf size.
- Prepare ingredients to garnish.
Shell and halve quail eggs.
Cut raw ham into strips.
Grate mozzarella cheese.
Shell prawns. Dress them with 2 teaspoons olive oil and a pinch of salt.
- Assemble your dish.
Once removed baking pans from the oven, sprinkle mozzarella on the third part of sage leaves immediately, in order heat can melt cheese partially.
Then sprinkle remaining olive oil on the other baked sage leaves. (It is not essential and you can save at least thirty calories per head. Keep this in mind if you prepare it for dinner).
Arrange ham strips on other sage leaves.
Complete with prawn tails and quail eggs on remaining sage leaves.
Garnish with mayonnaise, if liked.
Look at the photo for more details.
Just before serving
- Your dish is ready. Serve at once.
Note
Tips
- Sage canapes should be cooked and garnished at the last minute. The only breading can be anticipated.
- You can garnish your sage canapes with cotto ham or other salami too.
- Feel free to use regular hen eggs cut into slices or quarters to speed up your recipe instead of quail eggs. To remove shell from quail eggs always takes a long time. Keep in mind, however, that they are truly special.
- Baking in the oven can not be replaced by deep frying according to me because it tends to deform leaves. In addition, the dish would become more indigestible.
- The last tip: baked breaded sage leaves are very tasty even without any addition. It's enought to sprinkle olive oil on their surface once removed from the oven.
Menu planning
- Serve sage canapes as starter in a full menu for your special occasions or as tasty dinner for your family.
If you serve them as an appetizer and have many guests, you should get some help in kitchen!
Useful links for this recipe
- If you want an assorted antipasto platter according to the Italian style, you could prepare fewer sage canapes and add other tidbits. Look at our directories on finger food and crostini for other ideas.
Healthy eating
- When I calculated nutrition facts of sage canapes I didn't include mayonnaise. It's a choice of yours to use or not it.
You have to note doses are highly variable because they depend on the size of leaves.
- Calories are quite high considering this dish as an appetizer but the entrees are served on special occasions and special occasions are rare, or not? ;))
- Fiber per serving: 1.4 grams
Loretta
What's the right wine for " Sage canapes "?
If you serve sage canapes as starter, you should serve the same wine chosen for your full menu. In any case Prosecco or sparkling rosé wine pair very well.