Savory tart with salt cod

( Torta salata con baccalà )
Our original home cooking
This savory tart with salted cod is truly fantastic. I proposed it several times to our guests and have always received many compliments. And thanks to the requests of having the same again, I can confirm its goodness. It's my own recipe but it is based on a way of cooking fish, typical of southern Italy and particularly of Sicily, with orange juice, tomato sauce and onion. My husband and I tasted a lot of recipes of this type and so thought of transferring this method to salt cod too. With considerable success, as confirmed by our guests. Here is the recipe and I remember you to start 48 hours before unless you buy salt cod already wet ;))
difficulty: medium
time: 1 hour 20 minutes
calories: 492 (kCal)
Ingredients / Serves 4
2 portions

pizza dough

500g (1.1 pounds)

salt cod

150g (5 1/3 ounces)

leek

1 tablespoon

dried chives

1 tablespoon

dried flat-leaf parsley

1

dried bay leaf

400g (14 ounces)

puréed tomatoes

1

orange

40g (1 1/2 ounces)

green olives, stoned

2 tablespoons plus 1 teaspoon

extra virgin olive oil

Salt
Difficulty:

medium difficulty

Time:

preparation:

30 minutes


plus soaking and leavening time
cooking:

50 minutes


total:

1 hour 20 minutes

How many calories in a serving?

Calories:

492 (kcal)

25 %

- 2060 (kJ)
Protein:

35.2 (g)

71 % GDA


Total fat:

15.9 (g)

23 % GDA


Total carbohydrate:

54.8 (g)

21 % GDA


Sugars:

7.5 (g)

9 % GDA
Download free PDF version (299 download).
Recipe for savory tart filled with salt cod
Preparation and cooking
- Remove salt from fish.
Salt cod is sold under salt and needs to be put in cold water for about 48 hours before being skinned, boned and prepared for the recipe.
Remember to change water frequently. Some people say that it would be necessary to keep it in a bowl placed in the sink, under a trickle of water.
I do not follow this advice for a number of reasons: environment (the water is too precious, do not waste it, please!) and money (bills are already quite salty!).
I prefer to keep it soaking in water in the refrigerator.
- Prepare pizza dough.
After soaking salt cod, unless you have bought ready-to-cook salt cod, you have to prepare pizza dough.
You can follow your favorite recipe or our instructions. Take a look at our directory to choose the best recipe for you. You have to use 250g (8 3/4 ounces) all-purpose flour or wholemeal flour (much better!) Link below.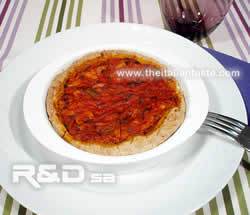 - Prepare other ingredients.
While pizza dough is leavening, chop leek and squeeze orange.
Slice olives.
Skin salt cod, remove its bones and cut into little pieces.
- Cook savory tart filling.
Let leek and bay leaf fry slightly in 1 1/2 tablespoons olive oil, on very low heat, stirring often.
Stir in puréed tomatoes.
Pour in orange juice too and stir again.
Let all bring to a boil and then add salt cod pieces.
It is not necessary to add salt in most cases. If necessary, taste your filling after cooking.
Orange juice should be enough to let salt cod cook for about 10 minutes.
Let your filling reduce well.
Once turned off the stove, add remaing aromatic herbs and olives.
Stir acurately.
Remove bay leaf before filling your savory tart.
- Prepare savory tart.
Preheat oven to 180 °C (350°F).
Graese a rectangular (26 x 33 cm - 10x13in) or round (diameter: 30 cm - 12in) baking pan or 4 5in round single-serving molds with remaining olive oil and sprinkle with all-purpose flour.
Line your baking pan with pizza dough in order to have an edge of one centimeter.
Prick the bottom with a fork and spread your filling with a spoon.
Level tart surface.
Bake, 25 to 30 minutes.
It's impossible to be more precise on cooking time. It depends on many things, first of all your oven.
Just before serving
- Let your savory tart rest for 5 minutes before serving.
Note
Tips
- You can see my savory tart in this page in two different versions. A first rectangular shape and a second round shape that serves 1 (in this case I distributed my pizza dough and filling into 4 molds). This second version is very interesting if you need to plan a full lunch or dinner, Italy-style for a special occasion. In fact I have the habit to serve it after the first course (pasta or rice dish) and before the second course based on meat or fish. A different way to bring fish to the table and with success as I have already described.
- You can make this savory tart with your favorite flour.
- If you have no time, you can use a ready-to-bake pizza dough but the result will be better with homemade pizza dough.
Menu planning
- Serve this savory tart filled with salt cod to start a full menu or as I have just described but remember it can be a fantastic one-plate meal for your family meal.
Useful links for this recipe
- Have you any curiosity on oranges?
- Are you interested in making at home pizza dough? Take a look at our directory :))
Healthy eating
- I calculated the calories of this savory tart with salt cod with pizza dough made from all-purpose flour, certainly the most used. Let's see how things change with wholemeal flour. Calories go down to 479 but this decrease is slight to be considered a real benefit. The real positive note is that fibers become almost 7.9 grams. In other words they double and all of you should know what are the benefits of fiber. Another reason to choose always wholemeal flour.
- Fiber per serving: 4.0 grams
Loretta
What's the right wine for " Savory tart with salt cod "?
We like to serve this savory tart filled with salt cod paired to a good-quality red wine from Marches: Rosso Piceno