Cooked cherries

( Ciliegie cotte )
Our original home cooking
Cooked cherries are very simple to make but tasty. They're a great dessert for June and July when the cherries are in season. The recipe has practically no fat. But beware, it is always a sweet, so sugar is always high ...
difficulty: easy
time: 30 minutes
calories: 185 (kCal)
Ingredients / Serves 6
1kg (2.2 pounds)

cherries

200g (7 ounces)

sugar

10

cloves
Difficulty:

easy recipe

Time:

preparation:

20 minutes


cooking:

about 10 minutes


total:

30 minutes

How many calories in a serving?

Calories:

185 (kcal)

10 %

- 775 (kJ)
Protein:

1.2 (g)

3 % GDA


Total fat:

0.1 (g)

1 % GDA


Total carbohydrate:

46.1 (g)

18 % GDA


Sugars:

46.1 (g)

52 % GDA
Download free PDF version (258 download).
Cooked cherries recipe
Preparation
- Remove stalks from cherries.
- Wash cherries in cold water quickly.
- Put them in a saucepan with sugar and cloves.
Cooking
- Bring to the boil slowly.
Be careful: cherries tend to foam when they begin to boil.
- This kind of fruit releases water when cooked.
So you have to raise the heat when you see some water in the pan.
- Cook, stirring now and then, only 10 minutes.
- At the end there must be a little juice.
Just before serving
- Serve cherries cold or warm in little bowls.
Note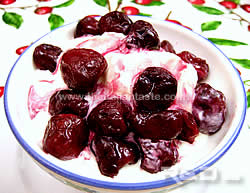 Tips
- Be careful duriing cooking time of cherries.
If the water is too much, remove it with a ladle.
If cooking time is too long, you risk to make jam instead of cooked fruit.
- You can also chill this dessert.
- Cooked cherries must be eaten with a teaspoon. I remind you that the same teaspoon is also used for their core ... but with elegance. From your mouth to the teaspoon and from the teaspoon to a saucer which must always be made ​​available.
Menu planning
- Serve cooked cherries warm, at room temperature or after chilling.
- Cooked cherries are very good as a dessert but you can also garnish ice creams with them (look at the photo).
In this case the recipe serves 12.
Useful links for this recipe
Healthy eating
- This dessert made with cooked cherries is delicious. There are very few people who say no to a dessert after lunch or dinner, especially when people are out. But keep in mind that many sweets are the opposite of healthy eating.
So how do you? As usual, the equilibrium point is the salvation of each one of us.
In the daily menu, as guidelines for healthy eating recommend us, we have to prefer dry and baked cakes paying attention to the amount of sugar.
But if there is a special event (birthday party at home, ceremony, dinner with friends ...) let's enjoy our special cake. Once in a while, especially if you do exercise, the body can metabolize the calories, fats and sugars in excess.
Loretta