Orange jelly

( Gelatina di arance )
Our original home cooking
Orange jelly. A homemade dessert very easy to do, to prepare in advance and with very few calories. So good that no one will say no. You can also choose orange jelly for your daily menu. A typical dessert of winter when oranges are in season.
difficulty: easy
time: 30 minutes
calories: 95 (kCal)
Ingredients / Serves 8
About 6

oranges

500ml (1 pint - 2 cups)

sweet sparkling wine

5g (1/5 ounce)

powdered vanilla

40g (1 1/2 ounce) sugar

Jelly sheets for

700ml (1 1/2 pint)
Difficulty:

easy recipe

Time:

preparation:

10 minutes


plus cooling time
cooking:

20 minutes


total:

30 minutes

How many calories in a serving?

Calories:

95 (kcal)

5 %

- 396 (kJ)
Protein:

0.3 (g)

1 % GDA


Total fat:

0.0 (g)


Total carbohydrate:

10.5 (g)

4 % GDA


Sugars:

10.5 (g)

12 % GDA
Download free PDF version (273 download).
Orange jelly recipe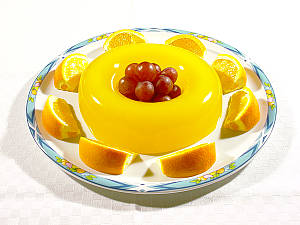 Preparation and cooking
- Squeeze oranges.
You have to obtain about 500ml (1 pint - 2 cups) juice.
- Pour orange juice into a saucepan together with sweet sparkling wine, vanilla and sugar.
At first add only 40g (1 1/2 ounce) sugar.
Eventually you can increase its quantity at the end of cooking.
- Let your orange mixture boil on medium heat until reduced for the third part, 10 to 15 minutes.
- Meanwhile soak jelly sheets in cold water.
- At the end of cooking, taste your juice and control sugar.
You can add other sugar now, if liked.
- Stir well.
- Turn off the stove, wait for some minutes and then squeeze jelly sheets and melt thrm in orange mixture.
- Let it cool, pour into the mould and chill overnight.
Just before serving
- When you have to serve orange jelly, turn it out on a serving platter.
Note
Tips
- If you can't remove your orange jelly from its mould, plunge it into hot water for few seconds.
- Choose juicy and sweet oranges so you can not increase sugar.
Menu planning
- You can serve orange jelly together with fruit salad or a chocolate cake. It is a do-ahead dessert.
- It's perfect for both your weekly and special menus.
Useful links for this recipe
- Interested in nutritional properties of oranges? read more on our page dedicated to oranges.
Healthy eating
- Orange jelly is no-fat and low-calorie dessert but very tasty. A fantastic combination, isn't it? sugars? low they too! A rarity in the world of sweets!
- Sweets are delicious. There are very few people who say no to a dessert after lunch or dinner, especially when they are guests or at restaurants. But keep in mind that many sweets are the opposite of healthy eating.
So how can you do? As usual, the equilibrium point is the salvation of each one of us.
In the daily menu, as guidelines for healthy eating recommend us, we have to prefer dry and baked cakes paying attention to the amount of sugar.
But if there is a special event (birthday party at home, ceremony, get-togethers with friends ...) let's enjoy our special cake. Once in a while, especially if you do exercise, the body can metabolize its calories, fats and sugars in excess.
What's the right wine for " Orange jelly "?
Do not match any sweet wine to this cake, like Asti Spumante. You can serve an orange or lemon-flavoured liqueur after.