Tiramisu

( Tiramisù )
Authentic Italian recipe
Tiramisu is the best known Italian dessert in the world. But what is its origin? Is there a region that can boast itself for having invented tiramisu? Impossible to say. For various reasons Piedmont, Tuscany, Lombardy, Veneto are involved ... someone swears it has been prepared for the first time in Le Beccherie of Treviso in the 70s. What is certain is tiramisu is one of the best known multi-layered cake but so rich in calories and fat! Interested in making savoiardi for tiramisu? link below!
difficulty: easy
time: 40 minutes
calories: 428 (kCal)
Ingredients / Serves 12
400g (14 ounces)

savoiardi (sponge biscuits or ladyfingers)

500g (1.1 pound)

mascarpone cheese

2

whole eggs

3

egg yolks

250g (8 3/4 ounces)

icing sugar

300ml (10 fluid ounces - 1 1/3 cup)

strong coffee

20g (3/4 ounce)

powdered bitter cocoa
Difficulty:

easy recipe

Time:

preparation:

30 minutes


cooking:

no cooking


total:

40 minutes

How many calories in a serving?

Calories:

428 (kcal)

22 %

- 1791 (kJ)
Protein:

8.3 (g)

17 % GDA


Total fat:

23.3 (g)

34 % GDA


Total carbohydrate:

46.6 (g)

18 % GDA


Sugars:

35.1 (g)

39 % GDA
Download free PDF version (282 download).
Tiramisu recipe
Preparation
- Prepare mascarpone cream.
Mascarpone is a soft cheese from Italy.
Beat whole eggs, egg yolks and icing sugar for a long time until a foamy mixture.
You can also use an electric whisk.
Then add mascarpone cheese with circular movements from the bottom upwards, using a wooden spoon.
- Assemble your tiramisu.
Dip half the biscuits in strong coffee (without sugar) very quickly.
Arrange them on the bottom of a rectangular deep dish.
Cover with half the mascarpone cream and level the surface.
Dip remaining biscuits in coffee and make a second layer of savoiardi.
Cover with remaining mascarpone cream.
Level tiramisu surface and sprinkle with powdered bitter cocoa using a strainer.
- Chill until serving covered with food film.
Just before serving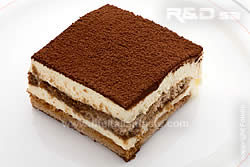 - Remove tiramisu from the fridge some minutes before serving.
Cut portions and serve in individual plate with dessert spoon.
Note
Tips
- Tiramisu is tastier if you prepare it some hours before. Use only new-laid eggs and new mascarpone if you want to preserve this cake for longer than 24 hours.
- Some prefer to mix strong coffee with whisky. The quantity of whisky depends on your personal taste.
I sometimes add some coffee liquor.
- Some prefer to cover tiramisu surface with grated pure chocolate (semi-sweet chocolate).
- Some use whipped cream too in their tiramisu. In this case they make a third layer of biscuits and cover them with whipped cream; then they sprinkle cocoa.
- So as you see, and as it always happens with Italian recipes, each family has its own version.
- Lately I made ​​changes to this recipe because I remembered that my mother separated whites from yolks and then whipped egg whites with a little sugar and stirred apart all yolks with mascarpone. Finally she mixed all adding remaining sugar. I recommend this version because mascarpone cream is much softer.
Menu planning
- You could prepare single portions (in little goblets) of tiramisu as you can see in the photo; in this ways you can also prepare some portions with decaffeinated coffee for people who don't like strong coffee (children included).
- Tiramisu is a high-calorie and high-fat dessert. So avoid serving it after meat rich in fat or elaborated fish dishes.
- You could serve tiramisu all year round but it would be better to prefer desserts made with ice-cream and fresh fruit in hot months.
Useful links for this recipe
- Want to make ladyfingers (savoiardi biscuits) at home? follow the link!
Healthy eating
- Tiramisu nutrtion facts speak for themselves. There is no need to comment. A portion of tiramisu, and not so big, has the calories of a plate of pasta and approaches alone to how much we can introduce in a single meal of the day. This speech is obviously referring to an adult with an energy intake of 2000 calories per day. Not to mention the sugar ...
So common sense invites us to make and eat tiramisu only on special occasions!
- Fiber per serving: 1.3 grams
Loretta
What's the right wine for " Tiramisu "?
My husband and I don't serve any sparkling wine like Asti Spumante. We prefer to serve a liquor after.