Watermelon ice

( Gelo di mellone )
Traditional dessert recipe of Sicily
Watermelon ice (in Italian "gelo di mellone" or "gelo di anguria") is a typical Sicilian dessert. It's so soft to be eaten with a teaspoon. Watermelon is the translation of anguria in Italian but Sicilians use to call watermelon melone or mellone. It is easy-to-do and you can have the best result only using good-quality ingredients. Interested in other Italian cakes and desserts?

difficulty: easy
time: about an hour
calories: 229 (kCal)
Ingredients / Serves 4
1l (2.1 pints - 4 1/4 cups)

watermelon juice

80g (2.8 ounces)

wheat starch

100g (3 1/2 ounces)

sugar

50g (1 3/4 ounce)

candied peel

50g (1 3/4 ounce)

chocolate drops

50g (1 3/4 ounce)

pistachios to be shelled

A cinnamon stick

Pinch vanilla powder

Essence of jasmin flowers
Difficulty:

easy recipe

Time:

preparation:

40 minutes


plus cooling time
cooking:

15 minutes


total:

about an hour

How many calories in a serving?

Calories:

229 (kcal)

12 %

- 956 (kJ)
Protein:

2.1 (g)

5 % GDA


Total fat:

5.1 (g)

8 % GDA


Total carbohydrate:

46.1 (g)

18 % GDA


Sugars:

33.9 (g)

38 % GDA
Download free PDF version (293 download).
Watermelon ice or gelo di melone or gelo di anguria recipe
Preparation and cookin
- Prepare watermelon.
You have to use a 2kg (4lb and 6 1/2oz) watermelon to have 1 liter (1 pint and 15 1/4fl oz) juice.
Cut watermelon into slices, remove its rind and seeds.
Then pass its pulp through a food mill to have its juice.
- Cook watermelon juice.
Pour watermelon juice into a large pan.
Sift in wheat starch stirring continuously to avoid lumps.
Add sugar too and stir.
Then add cinnamon stick and vanilla.
If you have jasmin essence this is the moment to add it.
Bring to the boil on low heat stirring continuously and keep on cooking for other 3 minutes after the beginning of boiling.
Stir continuously.
Turn off the stove, remove cinnamon and add candied peel cut into little pieces. Stir.
Let your juice cool.
- The last step
Shell and chop pistachios.
Distribuite watermelon ice in four cups and chill until serving, at least 3 hours.
Just before serving
- Garnish with chocolate drops and pistachios just before serving.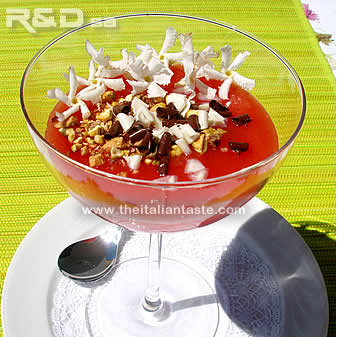 zoom »
Note
Tips
- It's difficult to find the essence of jasmin flowers but you can do it at home easily if you are able to find jasmin flowers in the beginning of summer. It's enough to pick up a handful of flowers, wash them and put in a little bowl, cover with cold water and soak for at least two hours. The final step is to drain the water. Your essence is ready! Obviously you have to use flowers with no fungicides treatment.
Use fresh flowers to garnish the cake as you can see in our photos.
- It's difficult to find candied peel too but you're not obliged to add it to this cake. If you want you can substitute candied peel with candied citron or use no candied fruit. In the last case you can also reduce the calories and sugars!
Menu planning
- You can serve watermelon ice at the end of a lunch or dinner. Prepare it as individual portions in little cups or as a whole pudding as you can see in the first photo. I suggest to prepare watermelon ice in individual cups until you become more expert with this Italian cake.
- Another tip: why don't you prepare a tart filling it with watermelon ice? It tastes fantastic and is ideal for a summer menu. Prepare watermelon ice and fill a shell made with short pastry and baked empty before. Chill until serving. Bring back to room teperature before serving. At this point garnish its surface with chopped pistachios and chocolate drops.
Healthy eating
- This is a low-calorie cake but its sugars are very high as you can see it reading its nutrition facts. What can we do to reduce sugars? For example not adding sugars if the watermelon is sweet or use a sugar substitute that can be cooked.
Note the nutrition facts with no sugar:
energy kCal 163, protein g 2,1, fat 5,1 g, carbohydrate g 28,7, sugars g 17,3, fibers g 1,8
Loretta
What's the right wine for " Watermelon ice "?
My suggestion is a dessert wine of Sicily such as Contea di Sclafani Bianco Dolce. If you don't find it you can serve an Italian dessert wine