Sweet heart

( Dolce Cuore )
Our original home cooking
Sweet heart is the cake I created years ago for Valentine's Day, in honor of my husband, real lover of dark chocolate and oranges. This cake is delicious. Rich in calories, unfortunately, but Valentine's Day comes once a year, thankfully! then you can do it during the period of oranges, winter and early spring. However, it is a cake to consider for whatever you have to celebrate in these seasons. It's main ingredients are bitter chocolate, whipped cream, orange custard and sponge cake!
difficulty: difficult
time: 1 hour and 20 minutes
calories: 397 (kCal)
Ingredients / Serves 4
250g (8 3/4 ounces)

sponge-cake

2

egg yolks (3 if they are little)

40g (1.4 ounce - 3 1/3 cups) granulated

sugar

4 teaspoons

potato starch

2

orange juice

6g

(1/4 ounce)

jelly

sheet

200ml (6 3/4 fluid ounces - 1/2 plus 1/3 cup)

whipping cream

1 tablespoon

icing sugar

2 tablespoons

orange liqueur

For cake covering

100g (3 1/2 ounces) bitter chocolate

1 tablespoon granulated sugar

Assorted sugar ornaments
Difficulty:

difficult recipe

Time:

preparation:

60 minutes


cooking:

20 minutes


total:

1 hour and 20 minutes

How many calories in a serving?

Calories:

397 (kcal)

20 %

- 1660 (kJ)
Protein:

6.5 (g)

13 % GDA


Total fat:

20.7 (g)

30 % GDA


Total carbohydrate:

46.3 (g)

18 % GDA


Sugars:

35.7 (g)

40 % GDA
Download free PDF version (194 download).
Sweet heart recipe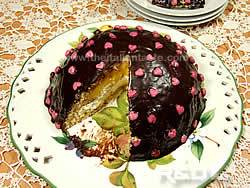 Preparation and cooking
- Cut sponge cake into rectangular shapes.
Soak them with orange liqueur, diluted in water, and line a medium-size china mold for puddings with them.
Remember to put aside the amount necessary to make a layer, inside, between orange custard and whipped cream and the base.
Generally, I line my mold with kitchen film to remove my cake easily.
- Prepare orange custard.
Beat egg yolks, sugar and potato starch in a saucepan with a wooden spoon.
Add orange juice and bring slowly to a boil in a bain-marie, on a very low heat.
Let your mixture boil and continue stirring, until it thickens.
Remove from heat and add, immediately, the fish-glue (jelly sheets), soaked for 15 minutes and then well squeezed.
Stir very well and let your orange custard cool.
- Prepare whipped cream.
Whisk cream with icing sugar in a large bowl, using an electric whisker, until soft peaks form.
- Assemble your cake.
Now spoon your orange custard over the sponge cake.
Level the surface.
Cover with soaked sponge cake.
Now spoon whipped cream over and cover your cake with the last part of sponge cake, soaked.
Chill until firm, at least 3 hours.
Just before serving
- Turn your cake upside down on a serving platter and cover it with dark chocolate melted with sugar and 2 tablespoons water.
Decorate according to your fancy and occasion to celebrate.
Note
Tips
- This is a soft cake, with a structure similar to Italian zuccotto, for all your special occasions. You can make it ahead.
- The name of my cake derives from its inside that is very good!
Menu planning
- Serve this cake in a birthday party, in a meal buffet-style, to close a lunch or dinner party menu.
- This is not the ideal choice for a seafood menu. Remember that whipped cream and fish often do not go together.
Useful links for this recipe
- Interested in orange news? it's one of the most important ingredient in sweet and savory winter recipes.
- Want to make homemade sponge cake? here's the link to our recipe.
Healthy eating
- If you think this cake has dark chocolate, orange custard and whipped cream as main ingredients, it is obvious it can not be a low-calorie sweet. But be careful ... the portion is not big :))
- Fiber per serving: 1.6 grams
Loretta
What's the right wine for " Sweet heart "?
Asti Moscato from Piedmont (region of Italy) or Drambuie (43°) are the best pairings.