Saint-Honorè cake

( Torta Saint-Honorè )
Our original home cooking
There are several versions of Saint-Honoré cake in Italy but remember the original recipe is French and is very different. Below you'll find some other news. On the contrary the recipe that I propose you is my own Italianized version that's very useful when I have guests. I have repeatedly tested it and thus I'm sure I'll never make a bad impression. The base is the traditional Maddalena cake that is a low-fat foam cake. I prefer the more traditional custard, cream and chocolate to Chiboust cream that not all people like. Cream puffs are necessary too. It is a soft cake that you can eat while standing and does not create any problem in your parties. I usually prepare what I need in advance and assemble my cake few hours before serving. Read below how to assemble this cake.
difficulty: medium
time: 60 minutes
calories: 622 (kCal)
Ingredients / Serves 10
Half a glass

of rum

750g (1 2/3 pound)

custard (pastry cream)

100g (3 1/2 ounces)

chopped hazelnuts

500ml (1 pint - 2 cups)

fresh whipping cream

100g (3 1/2 ounces)

semi-sweet chocolate

Maddalena cake

Empty cream puffs

Icing sugar
Difficulty:

medium difficulty

Time:

preparation:

50 minutes


plus Maddalena cake, custard and cream puffs preparation and cooking
cooking:

10 minutes


total:

60 minutes

How many calories in a serving?

Calories:

622 (kcal)

32 %

- 2600 (kJ)
Protein:

11.1 (g)

23 % GDA


Total fat:

37.5 (g)

54 % GDA


Total carbohydrate:

57.5 (g)

22 % GDA


Sugars:

42.0 (g)

47 % GDA
Download free PDF version (480 download).
Saint Honorè cake recipe
Links to Maddalena cake, custard and other ingredients below!
Preparation and cooking
- Divide Maddalena cake into three layers that must have the same thickness.
- Mix rum with the same quantity of cold water and soak every layer lightly with it.
- Put the first layer on the serving platter and spread about the half of custard on it.
- Cover with the second layer and spoon other custard.
Remember to put apart some tablespoons of pastry cream.
- Cover with the third layer.
- At this point spread the remaining custard on the border and arrange chopped hazelnuts with a spoon or your hand.
- Whip fresh cream very well.
You have to add a couple of tablespoons of icing sugar to make this step easier.
- Melt chocolate in a bain-marie; let it cool.
- Fold the third part of your whipped cream into melted chocolate in circular movements from the bottom upwards, using a wooden spoon.
Be careful not to collapse your mixture.
- Fill the half of cream puffs with the whipped cream and the other ones with the mixture of chocolate and whipped cream.
- Spoon the remaining whipped cream on the surface of the cake.
- Dip the edge of every profiterole in the pastry cream and arrange on the surface.
- Garnish with the mixture of chocolate and whipped cream.
- Your cake is ready.
Just before serving
- Chill until you have to serve it.
Note
Tips
- This is my own Italianized version of French Saint Honoré. It is quick to do as long as you have already made in advance the basic dough to fill (Maddalena cake), custard and cream puffs.
You can also use ready-to-fill foam cake and cream puffs and instant custard but, obviously, your cake won't have the same taste ;))
- There are some Italianized versions of Saint Honoré in which whipped cream is substituted with butter cream.
- You can fill your cream puffs with custard instead of whipped cream and then coat their top with caramel.
Caramel How-To: just melt four tablespoons of sugar in two tablespoons of water in a small saucepan over low heat. When it takes a nice golden color it is ready to be used but ... very quickly.
Menu planning
- This Saint Honoré cake version, stuffed with custard and decorated with cream puffs, whipped cream and chocolate cream, which I havejust told about is ideal for your special occasions. A birthday, an anniversary, a ceremony celebrated at home. You can serve it at the end of a full menu provided it is not based on fish. Fish and cream do not go together ;))
Or at the end of a meal, buffet-style.
- You can also prepare mini cakes serving one. It is laborious but full of satisfaction provided you can be helped.
- In the picture you can see the cake served on a cart for the afternoon tea.
Useful links for this recipe
Healthy eating
- Little to say about this Saint Honoré cake. Its nutrition facts speak clearly. One serving equals a whole meal. A true Everest in calories, fat and sugar.
To do and eat sparingly. Only in very special occasions.
- Fiber per portion: about 2 grams
Loretta
What's the right wine for " Saint-Honorè cake "?
I usually serve a sweet dessert wine (Passito of Pantelleria from Italy is my favorite) after eating it.
A little history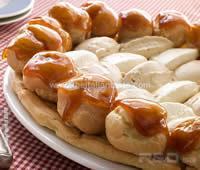 cake
The original recipe of Sain Honoré cake dates back to 1846 in France thanks to the oestrus of the pastry chef Chiboust. The cake is made with a base of puff pastry (some say even short pastry) around which there is a crown made with dough puffs. On the top you can see cream puffs filled with the special Chiboust cream (Chiboust cream is similar to custard but made ​​lighter by the addition of egg whites). The empty spaces between puffs are filled with the rest of this cream. A little cream is spread evenly over the cream puffs upon which caramel disks are deposited. Very laborious but obviously very good.
As you can see French Saint Honoré is very different from Italianized versions.
The pastry chef Chiboust dedicated it to Saint Honoré which is the patron saint of pastry chefs, bakers and confectioners in France. The saint's relics are kept in a chapel which is located in Rue St. Honoré in Paris, where the pastry chef Chiboust had his shop. Find news on the saint in the specific page of Wikipedia