Panettone: Italian Christmas cake with sourdough

( Panettone )
Our original home cooking
Among the many recipes for homemade panettone you can find on this site, this is the most authentic because it respects some fundamental points: the rising with sourdough and the proportion of other ingredients. In fact, I remind you that panettone is a sweet leavened bread, not white for the richness of eggs and not too sweet. This is a recipe of mine and I am particularly proud of it :))
difficulty: laborious recipe
time: 2 h 30 minutes
calories: 299 (kCal)
Ingredients / Serves 24
1kg (2.2 pounds)

all-purpose flour plus more for dusting

230g (8 ounces)

unsalted butter

240g (8 1/2 ounces)

granulated sugar

2

eggs

6

egg yolks

110g (3.9 ounces)

raisins

110g (3.9 ounces)

candied fruit

40g (1 1/2 ounce)

powdered wheat sourdough

310ml (10 1/2 fluid ounces - 1 1/3 cup)

warm water
Difficulty:

laborious recipe

Time:

preparation:

90 minutes


plus rising times
cooking:

60 minutes


total:

2 h 30 minutes

How many calories in a serving?

Calories:

299 (kcal)

15 %

- 1252 (kJ)
Protein:

6.0 (g)

12 % GDA


Total fat:

10.0 (g)

15 % GDA


Total carbohydrate:

49.0 (g)

19 % GDA


Sugars:

17.5 (g)

20 % GDA
Download free PDF version (359 download).
Recipe for panettone with sourdough
Read my tips before recipe directions. Panettone is not a simple-to-do cake and, in my opinion, we should always start with clear ideas to be sure to be successful. I have clear ideas now about panettone but I got them only after many attempts and failures. Now I am ready to share many tricks with you ;)
Preparation and cooking
- Begin early in the morning. You'll need: 11 hours for rising, more than an hour for preparation and 60 minutes for baking.
- First rising.
Knead 100g (3 1/2 ounces) all-purpose flour mixed with powdered sourdough with 90ml (3 fluid ounces - 1/3 cup) warm water in a bowl until a soft dough.
Sprinkle with flour.
Cover and let it rise for a couple of hours in a warm place, away from drafts.
Read my tips below about rising in the oven.
If you decide to follow it, put a heat-resistant container with water in the oven.
This will prevent the surface of your dough dries.
- Second rising.
Add other 100g (3 1/2 ounces) all-purpose flour and 60ml (2 fluid ounces - 1/4 cup) warm water to your rised dough.
Knead until a soft dough.
Sprinkle with flour and let it rise following the same directions I've written above (other 2 hours).
- Third rising.
Add other 100g (3 1/2 ounces) flour and 60ml (2 fluid ounces - 1/4 cup) warm water to your rised dough.
Knead until a soft dough.
Sprinkle with flour and let it rise following the same directions I've written above (other 2 hours).
- The last step.
The first steps are very quick. This one, however, requires more time and attention.
Prepare the other ingredients an hour before the third rising ends.
Begin with sugar syrup.
Melt sugar in 100ml (3 1/3 fluid ounces) water in a little saucepan.
Transfer the pan in a bain-marie and bring to a boil on very low heat.
Cook for about 40 minutes until a fluid and clear syrup.
Let it cool.
At this point add the two whole eggs and then yolks, one at a time, beating constantly with a whisk.
Your mixture must be foamy and when you join it to the other ingredients it will have a temperature of 20°C.
Meanwhile soak raisins in warm water.
Cube too big candied fruit and coat with flour on your work surface to detach from one another.
Look at the video on the page dedicated to the recipe for panettone with fresh yeast (link below). The technique is the same.
Squeeze raisins from their soaking water and flour in the same way for candied fruit.
Grease 3 panettone molds with 30g (1 ounce) unsalted butter. Read my tips below.
Melt the remaining butter in a bain-marie.
Butter should be warm too.
Place 600g (1.3 pound) flour on your work surface and make a very large well in the center.
Put your risen dough in the center of the well.
Pour in melted butter and begin to melt your dough in the butter.
Eventually add some flour from the edge of the well.
When you have a homogeneous mixture pour in egg-and-sugar syrup too.
Mix everything and then begin to transfer flour from the edge.
Mix all ingredients very well.
At the end you'll have to add all remaining flour and maybe something more.
Add raisins and candied fruit too and knead your dough until soft and shiny.
Certainly your dough will stick to the work surface but don't worry, you'll pick it up well with a spatula.
Divide your dough into the three molds as you can see in the photo, already giving them a dome shape.
Let your dough rises for almost 5 hours, away from drafts. I suggest in the oven, read below my tips.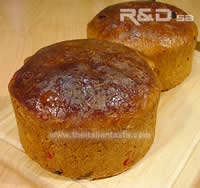 stmas cakes
Baking
- Preheat the oven to 180°C (350°F).
Adjust the oven shelves in a manner that you can then insert your molds on the lowest shelf.
Let a container with water in the oven as I suggest in my tips.
I'm obliged to bake my cakes in two times: at first two and the the third.
Place the molds and then set the oven temperature to 160°C (320°F).
Bake for about 60 minutes.
Don't open your oven in the first 30-40 minutes.
After 50 minutes control the cooking using a long toothpick for skewers.
It takes about 60 minutes to cook but every oven is different ...
Just before serving
- Let your cakes cool very well before removing from the molds.
- Slice and serve.
Note
Tips
- Making panettone at home is laborious but has many positive aspects. You can choose the best ingredients and have a good-quality cake, even all organic. And then, what a satisfaction to serve it and be able to say: that is done by me!
But if you want to get a panettone that has an appropriate flavor, appearance and texture you must keep in mind a few key points: the choice of yeast, different ways of leavening, time required, temperature in your house, cooking, the amount and quality of eggs ...
- What's the best yeast for panettone? Tradition tells that for an authentic panettone we have to use sourdough. Using fresh yeast means to modify its taste. I know very well very few people have sourdough at home but industry helps us with sourdough in powder. Every kind of flour has its own sourdough in powder and so you can use wheat sourdough for panettone recipe. I use wheat sourdough in powder produced by "Antico Molino Rosso". I have always the best results not only for panettone but for cakes with risen dough, bread, pizza, savory tarts too. That's also true when I make them with emmer or kamut flour.
You can also find on this site the recipe of mine for panettone with fresh yeast but I confess that I like it less because even though I use fresh yeast in small quantity to avoid its typical aftertaste I'm not completely satisfied. It isn't a "real panettone".
- Whay so many risings for panettone? To make panettone you must not be in a hurry. Beware of those who offer you quick recipes. Their recipe is not for panettone but for a different dessert with risen dough. How many sweets have risen dough with raisins and candied fruit? a large number. But panettone is unique! It takes three or four risings to have a good product, soft and full of taste. So you need to plan a day with no commitments.
- Temperature. The temperature is crucial for a perfect rising. It must be clear that you must have 30°C in your house (actually it may need only 25°C but rising time increases) or use some tricks. Use your oven with only the internal small light on for example. To optimize even more the thing, I turn on the oven half an hour before and set its temperature to 50°C (122°F). I turn it off immediately and let the small light on. I always wait 20-25 minutes before placing my dough, that is the time required for the temperature to stabilize. In this way I get a perfect leavening for any sweet not only for panettone.
- Cooking. This is another critical issue. The ovens at home are different from those used in a confectionery industry. We can do only small cakes. It may often happen that its outside turns to brown and hardens while we wait for it to complete its internal cooking. I found that baking at 160°C my panettone is a good choice ;)
- Panettone molds. Cooking will be perfect if you use right molds. There are non-stick, cylindrical panettone molds with removable bottom: they're OK. If you don't find them you could use any cylindrical mold (7" bottom diameter x 4" high).
If you want to use paper molds I can tell you nothing about cooking. I've never used.
- Eggs. Another important aspect is the color of panettone dough. The traditional panettone is rich in eggs and is definitely not white but tends to more or less pronounced yellow shade depending on the color of egg yolks. So pay attention to the number of egg yolks and egg quality. Since the recipe is laborious it is not worth saving on ingredients, don't you agree?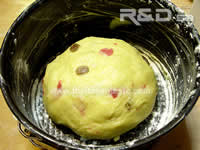 dough
- Panettone dome. How long I fought ... It had became my obsession about panettone. I'm talkng of the traditional dome of panettone, obviously. Until I realized that to have this dome I was to be careful with some details. First of all, the amount of dough that I put to rise for the last time in the cooking mold. Then the dome shape I have already to give to my dough in the mold. (Look at the photo for more details) And finally, the level reached by my dough in the mold just before baking: the top of the dome has to reach the edge of the mold. From then on, every panettone was a success!
- You have 3 cakes with my doses, everyone serves 8 people.
But keep in mind that these doses are tested on the ingredients that I generally use. You may have to vary them according to the quality of the flour you buy or the size of your eggs ... Other factors may be involved, weather included.
So even doses of water and flour in any leavening may have to be corrected. That is why I always suggest not to add immediately all the quantity of water and flour but to proceed gradually. Small changes can still be absorbed by this cake but large variations can cause excessive changes in flavor and texture.
- In my experience it is better to prepare panettone the day before.
If panettone is made ​​with sourdough you can keep it at room temperature up to 3 to 4 days. It may lose in softness if you keep it for more days.
I have found that it can be frozen easily. I do it whenever I have some leftovers or prepare more panettone than I need. I freeze panettone whole or sliced. I thaw it at room temperature and bake at 50°C (122°F) for some minutes just before serving: I have a slice of cake like freshly baked!
Menu planning
- According to tradition, panettone is served not only at Christmastime but from December to January in Italy. It's perfect in morning breakfast, to close lunch and dinner, or as a snack in the afternoon. However, I'd give a look at calories, total fat and sugars ... before eating many times a day ;)
- In Italy in recent years, it is trendy to serve panettone in summer too. If you think well of this habit you should agree, you too ;) In summer there is the right temperature to make well-risen cakes, isn't it?
Useful links for this recipe
Healthy eating
- Panettone is a cake and, as all cakes, is rich in calories, total fat, sugars.
If you make a comparison with the nutrition facts of industrial products you will certainly find great differences that benefit industrial cakes. Why? easy to say. They weigh less for the same volume because they undergo a greater leavening and so their alveolation is much larger.
In any case, there are a lot of ingredients and we can see their effects on our weight if we eat too much cake, or not?
- Fiber per serving: only 1,4 grams.
Loretta
What's the right wine for " Panettone: Italian Christmas cake with sourdough "?
Match a dessert wine or a sparkling wine with panettone such as Asti Spumante DOCG