Come cuocere la pasta
Cooking Italian pasta
Cooking pasta is very easy but there are some small tricks, I would not call them rules, to follow to have a good pasta from all points of view. What are the most important of them? Here they are! But remember ... before reading this page ... keep in mind that the first thing is to choose good-quality pasta made from durum wheat flour!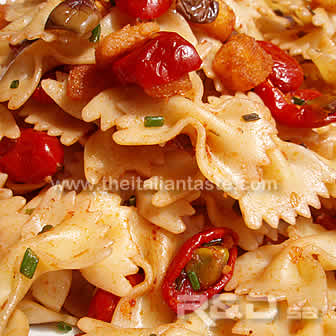 Cooking pasta how-to
- 1) Use abundant water: one liter per 100 grams of pasta
- 2) Bring to the boil the right amount of water and only in this moment add 10 grams of salt per liter of water.
- 3) Two or three minutes later add your pasta and increase heat to keep water boiling
- 4) Stir immediately with a wooden spoon (or a wooden fork if your pasta is long) until pasta is no more hard and is under water surface.
- 5) Stir now and then during cooking time
- 6) Cooking time depends on the quality of pasta and its shape.
Follow the instructions on the package.
But the most important rule is to taste your pasta at least a minute before the end of cooking. Only you can decide if pasta is ready according to your taste!
- 7) Drain pasta very well and toss it with the sauce you've prepared!
Share it with your friends!!
blog comments powered by

Disqus