Seafood pizza

( Pizza cocktail di mare )
Our original home cooking
This seafood pizza is a recipe of ours but it is made according to the Italian cooking. The top is made with prawns, anchovies, mussels and clams, squids and obviously tomato sauce and mozzarella. It tastes fantastic!
difficulty: medium
time: preparation: 40 minutes
cooking: 60 minutes
total: 1h 40 minutes
calories: 1039 (kCal)
Ingredients / Serves 2
Pizza dough

for 2 people

For the topping

300g (10 1/2 ounces)

puréed tomatoes

150g (5 1/2 ounces)

frozen prawn tails

70g (2 1/2 ounces)

fresh anchovies

100g (3 1/2 ounces)

frozen mussels and clams, shelled

300g (10 1/2 ounces)

frozen flying squids or squids

250g (8 1/2 ounces)

leek, finely sliced

2 tablespoons

dried chives

3 tablespoons

extra virgin olive oil

125g (4.4 ounces)

mozzarella cheese, grated

Salt
Difficulty:

medium difficulty

Time:

preparation:

40 minutes


cooking:

60 minutes


total:

1h 40 minutes

How many calories in a serving?

Calories:

1039 (kcal)

52 %

- 4347 (kJ)
Protein:

63.1 (g)

127 % GDA


Total fat:

36.6 (g)

53 % GDA


Total carbohydrate:

121.7 (g)

46 % GDA


Sugars:

19.7 (g)

22 % GDA
Download free PDF version (250 download).
Let the frozen seafood thaw.
Prepare the dough but remember to halve the doses if you follow our instructions. If you choose our dough you have less fat and calories. We calculated the nutrition facts according to our dough recipe.
Perhaps you can find a ready to bake pizza dough in a gourmet food shop.
Leave the dough to rise in a warm place and wait it doubles.
While the dough is rising prepare the ingredients for the topping.
Shell the prawns and put apart.
Prepare the flying squids or squids. Using frozen squids the cleaning step is easier as they are without guts and ink sac. Besides the mantles are separated from the heads with their arms and tentacles. Cut the mantle of every squid into slices crossways. Halve every head lengthways. You may find squid mantles and heads in different packages. Steam all the squid pieces until tender. Put all these squid pieces apart.
Fillet the anchovies. Put them apart.
Look at the photo for more details about seafood ingredients.
Sauté the leek in a tablespoon of olive oil on very low heat. Switch off the gas and put apart.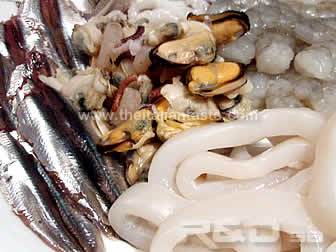 zoom »
When the dough has risen, divide it into 2 pieces and, on a lightly floured surface, roll out each piece. You can obtain the shape you want: rectangular or round. The doses are enough for two 30 cm (12in) round baking sheets if you like crunchy pizza but if you prefer soft pizza use only one baking sheet.
Grease the baking sheets with one tablespoon of olive oil and sprinkle them with a tablespoon of flour. Transfer every portion of dough to a baking sheet.
Preheat oven to 200°C (400°F). Mix the puréed tomatoes with the remaining olive oil, leek with its oil and chives; season to taste with salt, stir and spoon on the top of the pizzas. Arrange the seafood ingredients (except the prawns) on the top too. Look at the photo for more details.
Bake the pizzas for about 10-15 minutes, then remove them from the oven and arrange the prawns and grated mozzarella cheese on the top. Bake again for about 5 minutes.
Cooking times are indicative; everyone can adjust them to his oven.
Look at the photo for more details.
Serve hot or warm.
Note
- As you can read you can use frozen seafood except anchovies. So you can save much time. Obviously you will obtain the best result with fresh seafood.
- If the anchovies are small, add them together with mozzarella and prawns.
- We have made pizza dough with kamut flour.
What's the right wine for " Seafood pizza "?
Accompany this tasty pizza with a good beer.