Rice salad with 'Nduja and beans

( Insalata di riso con 'Nduja e fave)
Our original home cooking
I got the inspiration for this cold rice with typical Calabrian sausage and beans at a retirement party where 'Nduja was spread on slices of no salt bread at will. I remember to have thought: it may be tasty with legumes. Thought confirmed by my husband too. This rice salad is very simple and tasty if you like spicy flavors.Ideal for Mediterranean diet too provided you use brown rice and respect the doses ,))
difficulty: easy
time: 1 hour
calories: 468 (kCal)
Ingredients / Serves 4
300g (10 1/2 ounces)

long-grain, parboiled rice

90g (3 1/4 ounces)

Nduja, Calabrian salami

500g (1.1 pound)

frozen fava beans

2 tablespoons plus 1 teaspoon

extra virgin olive oil

Little bunch

fresh chives

Salt, if necessary
Difficulty:

easy recipe

Time:

preparation:

20 minutes


cooking:

40 minutes


total:

1 hour

How many calories in a serving?

Calories:

468 (kcal)

24 %

- 1957 (kJ)
Protein:

17.0 (g)

34 % GDA


Total fat:

16.7 (g)

24 % GDA


Total carbohydrate:

68.4 (g)

26 % GDA


Sugars:

3.1 (g)

4 % GDA
Download free PDF version (151 download).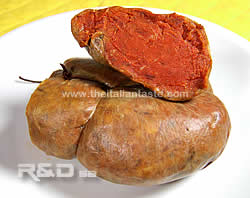 Recipe for rice salad with 'Nduja and beans
Preparation and cooking
- Prepare fava beans.
Boil frozen beans following the instructions on the package.
Let them cool.
Purée 1/3 in a blender o food processor.
Put apart remaining fava beans whole.
- Cook rice.
Boil rice al dente stage following the instructions on the package.
Drain very well.
- Prepare chives.
Clean and wash chives.
Pat dry with absorbent kitchen paper.
- Dress rice.
Transfer rice into a bowl.
Add 'Nduja, puréed and whole fava beans, extra virgin olive oil.
Cut in chives with a ceramic knife to avoid oxidation.
Stir very well, with delicacy.
Add salt only if necessary.
Just before serving
- Your rice salad is ready!
- Let it rest for about an hour before serving,
Note
Tips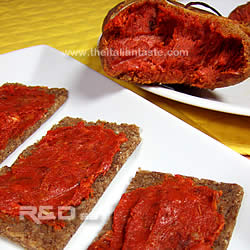 - This rice salad is easy and quick to do. Ideal for a full menu.
- 'Nduja is a salami from Calabria that has become world famous. It 's very soft and spicy. Its flavor is unique.
It is delicious spread on bread. In Calabria, however, it is often used to dress pasta, sautéing it in oil and tomato sauce. Some people add other ingredient such as chickpeas and mussels.
My husband and I have enjoyed it on pizza. It is now easily found in any shop who sells Italian food.
Menu planning
- Rice salad with 'Nduja and beans can sometimes be prepared in summer for your family menu.
- It is very-simple to do and you need little time to prepare it. Ideal when you have to make a lot of dishes.
I suggest this cold rice for your BBQ party.
Useful links for this recipe
- Read more on barbecue in Italian entertaining.
Healthy eating
- I'm certainly not here to talk about nutrition facts of this rice salad if you prepare it for a special occasion. It's a rare event, isn't it?
The situation differs if you are 'Nduja lover and want to prepare it often for your family menu.
You must take care of the doses of individual ingredients, especially 'Nduja.
Remember that cold cuts should be eaten once a week in a dose of 50 grams per head.
The choice is yours ;)
Cold rice with 'Nduja and beans is a main dish. Complete your meal with fresh fruit. Hungry people could munch on some raw vegetables.
- Fiber per serving: 6.9 grams.
Loretta
What's the right wine for " Rice salad with 'Nduja and beans "?
My husband and I serve rosé wines producted in Salento (Apulia) with this summer dish.