Themed dinner menus
Menu in Black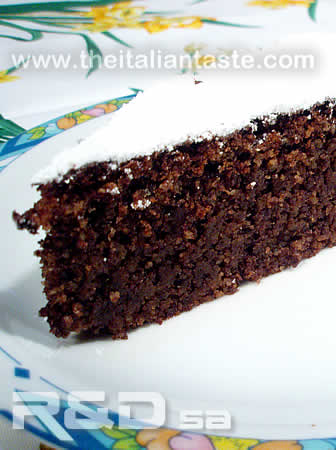 You eat traditional recipes from Umbria, Liguria, Sicily, Campania. You drink from Lumbardy
What can you find on this page?
Italian menu in Black: introduction
First of all, why this name? Because it is difficult to find a unique name for a menu like this, the common feature is the color: black!
Pasta with black truffles have a hint of black, of course.
Black reappears in the rabbit, Ligurian-style for its ingredients: black olives.
Caprese is also a very dark cake.
Open your menu by serving a cocktail made with Bitter Campari and orange juice: Garibaldi cocktail. Serve tasty appetizers with this cocktail. In addition to traditional crisps, nuts and olives you might also choose savory puffs or mini pizzas.
Italian menu in Black: details
- This is a very simple and quick-to-do menu, except for the cake.
- If you want to use seasonal ingrdedients make it in winter and at the beginning of spring.
- This menu serves 4 (except for the cake who serves much more people) but you can adapt the doses to more or less people.
- You'll be able to find how to prepare the black truffle sauce in the page dedicated to black truffle. Spaghetti with black truffle is a typical dish of Spoleto and Norcia in Umbria. This main dish would be perfect made with strangozzi a typical pasta of Spoleto and Umbria in general.
- Rabbit, Ligurian style is easy and quick-to-do. Accompany it with orange salad. It's a perfect second course!
Shopping list
250 g (8 3/4oz) unsalted butter
2 young onions
200 g (7 1/4oz) plain chocolate
Half a big rabbit
40 g black olives
300 g unpeeled almonds
280 g (10oz) spaghetti
50 g (1 3/4oz) black truffle, grated
6 eggs
1 l (1 pint and 15 1/4fl oz) orange juice
30 g (1 1/4oz) icing sugar
Bitter Campari
Bonarda wine (to match the menu and cook the rabbit)
Strega liqueur
besides ... check if you have at home
Aromatics and spices: dried or fresh rosemary, dried or fresh chives, fresh flat-leaf parsley, pepper
Baking powder
Extra virgin olive oil of good quality
Sugars (at least 200 g - 7 1/4oz)
Salt
and don't forget ....
the ingredients to make the finger food you'll choose
bread
water
Step-by-step instructions
The day before
Prepare the cake.
Grate the black truffle and put in oil. Follow our instructions that you can read on the page dedicated to black truffle
The same day
Cook the rabbit. You can prepare it ahead, in the morning, and then complete the cooking just before serving.
Prepare the finger food to serve with Garibaldi Cocktail.
Peel and cut the oranges. PLace them in the serving plate together with the other ingredients.
Can you see how easy it is? ... and good evening!