Authentic Italian Cooking
Themed dinner menus
Looking for a typical Italian menu? here you can find a lot of ideas for your weekly plan, special events and celebrations, included Holiday Season and Easter.
Every menu is linked to step-by-step recipes. Enjoy them!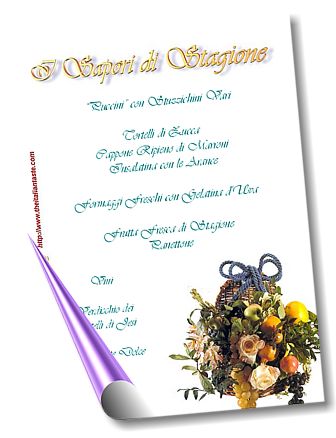 Themed dinner menus
This page is dedicated to the art of Italian entertaining or in other words how to plan a real menu, Italian-style.
Here you'll be able to find a lot of ideas for your special occasions and celebrations: Christmas, Easter, New Year's Eve, Valentines day, Carnival, Halloween, your cerimonies (even wedding), birthday parties ... Seated dinners or meals, buffet-style.
Besides there are summer, fall, winter and spring menus with seasonal ingredients and other particular ideas for children, vegans or people who are looking for healthy food!
Our menus listed according to the seasons, celebrations and feasts in the year