Themed dinner menus
A Heart that beats for you!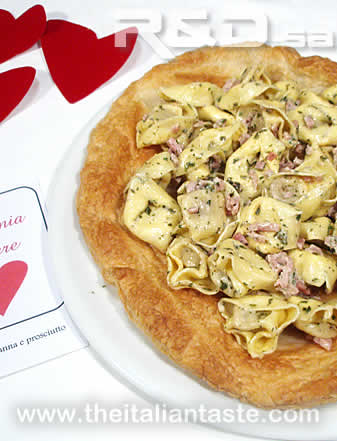 The menu of the heart that beats for you !
What you can find on this page
"The menu of the heart that beats for you!": introduction
This Valentine's menu that I show you on this page is dedicated to inexperienced men in cooking but that want to cook for planning a surprising romantic evening. But it may be OK even for you, girl, a little clumsy in cooking ...
Every course is accompanied by a particular card (download them free, with all you need to change words and images). You can read the dish and a particular dedication on every card. Then it will be intriguing to sign the most significant of them and keep it as souvenir.
This Valentine's menu is planned thinking about the seduction and courtship but in a refined and romantic style according to women taste. I'm sure even your boyfriend will like it.
If you think there are too many hearts, don't worry! Don't use the cards but don't forget to play with the words as I suggest below.
This Valentine's menu has the following features:
- you'll need only 90 minutes to prepare all its dishes (included preparation and cooking) but you have to prepare the pudding the day before
- all the recipes are very easy to do but very, very good. They taste fantastic and all these are according to the Italian cooking principles
- you have to use sesonal ingredients that are available on February
- there is no garlic and no onion and this is important when planning a romantic dinner for two
- if you'll have any food left there is no problem, you can rewarm everything the day after
- every course is accompanied by a specific card and this menu follows a precise logic of seduction. Look at the chosen ingredients and heart-shaped dishes. One of the most important ingredient is orange. The most loved bouquet by the brides is made with orange blossom in Italy, so this menu could be thought on a specific occasion too: ask your girlfriend to marry you, not only for Valentine's day. Another intriguing ingredient is plain chocolate.
Every course is combined with a specific card. Step-by-step instructions to use all the cards well!









qui il file MS Word (.doc) - qui l'immagine sorgente (.svg) da usare con Inkscape e OpenClipArt
You can see the whole sequence of the cards combined with my Valentine's menu above. They are sorted from the number 1 to the last. I remember you can download them free, with all you need to change words and images.
Use 8,5 x 13,5cm cards for printing.
- No. 1 card The menu of the heart that beats for you! - Place the cards, stacked, between the two plates. Only the first card must face up on the front with the title of the menu, put next to the pile. At the top of the stack there must be the No. 2 card with the crown and the word "thanks to be", clearly visible. The king of hearts thanks his partner.
- No. 3 card Cheers to our hearts - Turn the card, serve the aperitif and make the first toast
- No. 4 card To the best heart in the world - Turn the card and serve the heart-shaped pizza. Read below how to make it.
- No. 5 card To my Venus - Turn the card and serve tortellini with ham and cream. Do you know the tortellini shape remembers the navel of Venus? This is the reason why I chose tortellini as first course.
- No. 6 card To the most beautiful eyes in the world - Turn the card and serve the duck breasts accompanied with potatoes or orange salad.
- No. 7 card A melting flower to the most beautiful flower in the world - This card is combined with the dark chocolate & orange pudding. Serve a bit of flavored-orange liqueur after.
- No. 8 card To the queen of my heart - Use this carta only if you've prepared a gift.
How to lay out the table
I used a simple, white table-cloth, as you can see on the photos. I garnished it with a lot of red hearts cut out from paper or felt.
You don't need a centerpiece. Let your girlfriend find a little bouquet of fresh flowers. The best choice would be violets.
If you want other tips, look at our pages dedicated to Valentine's table and how to plan a romantic evening.
Shopping list
Little wild boar salami
Green olives
2 slices white bread
Partridge pate or foie gras
100g (3 1/2 ounces) ready to cook pizza dough
Ready to cook, round puff pastry
1 little mozzarella cheese, grated
250g (8 3/4 ounces) fresh tortellini
6-8 tablespoons heavy cream
80g (2.8 ounces) baked ham, in a slice
350 to 400 g (12 1/3 ounces to 14 ounces) duck breasts
Fresh potatoes ar pre-fried frozen potatoes
Organic fresh orange juice
Chocolate-and-orange pudding powder, ready-to-cook
500ml (1 pint - 2 cups) semi-skimmed milk
1 Red Martini bottle
1 red wine bottle (Lambrusco di Sorbara)
Orange-flavored liqueur
besides ...
Pureed tomatoes
Dried chives and parsley
Nutmeg
Dry white wine
Extra virgin olive oil
Sugar
Salt
Foil
Dried beans
and don't forget ...
Bread
Water
A flower-shaped silicone mold
A heart-shaped cookie cutter (not strictly necessary)
Step-by-step instructions
The day before.
Prepare the pudding following the instructions on the package. You have to buy a flower-shaped silicone mold for a scenographic serving. Remember to wet your mold before filling it. When cold, keep in the fridge until servirng. Turn it up on the serving dish. It's easy!
The same day.
- Chill the Martini bottle and orange juice.
- Begin cooking about 90 minutes before serving to prepare all calmly.
- Begin cooking duck breasts. You need at least 60 minutes. Remove its fat skin. Put 1 1/2 tablespoons olive oil in a pan and saute on both sides on low heat. Pour in half a glass of white wine and let it evaporate on high heat. Meanwhile squeeze one or two oranges, according to their size. Once the wine is evaporated, pour in orange juice together with dried chives (1 tablespoon) and parsley (1 tablespoon). Continue cooking on very low heat, half-covered. Turn over duck breasts now and then, Cooking time? about 45 to 50 minutes. Your meat must be tender. Let duck meat brown just before serving. Keep some water boiling while cooking, if it is necessary to add more water.
For other tips read our page dedicated to orange-flavored duck.
- Prepare all you need for making tortellini. You'll use the puff pastry only as a base to serve tortellini as you can see on the photo. It isn't necessary to eat it but it is not forbidden. It depends on your hanger ;)
Preheat oven to 180°C (350°F). Give pastry the shape of a heart by your hands and be sure to lift the edges. Do not remove the pastry from its package paper. Place puff pastry on a baking sheet together with its paper. Prick the bottom with a fork, cover its surface with foil and with dried beans completely. Bake until golden. When cold, remove dried beans and foil. Your base is ready!
Meanwhile grate baked ham and prepare a kettle with a plenty of salt water to cook, after, your tortellini.
Prepare the pan with olive oil, chives and ham according to the doses you can read on our page about tortellini with ham and cream. Let all ingredients flavor for a couple of minutes, switch off the gas and put apart.
- Lay the table. To speed up you may cut out the hearts from the paper in advance. The same for the cards.
- Begin preparing your pizza 30 minutes before serving. Give the shape of a heart to your pizza dough using your hands. Put it on a baking sheet on its package paper or after greasing the surface. Season pureed tomatoes with chives, salt and olive oil. Spoon it on pizza surface. Bake it about 15 minutes. A couple of minutes before the end of cooking, sprinkle grated mozzarella cheese on pizza surface. Complete cooking.
- Prepare the aperitif. Cut bread with a cookie cutter or cut out a heart from every slice. Spoon pate on the top. Drain olives and cut wild boar salami into slices. Arrange all on a serving plate.
Prepare your aperitif with Red Martini and orange juice few minutes before serving. The amount of these ingredients can vary very much. It depends on your personal taste. If you like a more alcoholic aperitif, use more Red Martini. You can also add some ice cubes and decorate every glass lip with orange skin.
- The last steps at last minutes.
- Bake your pizza while you are drinking your aperitif. When the pizza is ready, turn on the stove under the kettle with salt water to cook tortellini.
- Brown duck breasts just before serving them. You can accompany them with roast or baked potatoes. But you could choose to serve this meat course with orange slices dressed with salt and olive oil and sprinkled with dried parsley. Read more on our page dedicated to orange salad.
- and .... obviously, spend a fantastic evening!