(Rustic & refined menu)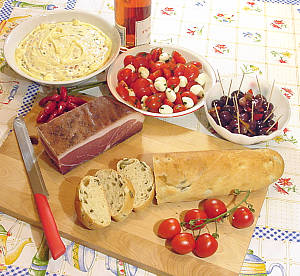 Time:


preparation: 40 minutes

Difficulty:


easy menu

Hot black olives
Italian speck (smoked ham)
Bread with olives
This is a fast but good menu in which you can't find the classical list from appetizers to second course; it's composed by a variety of traditional Italian dishes.
Some dishes can be prepared in advance such as Russian salad. You can also prepare cherry tomatoes and mozzarella in advance. So just before setting the table you have only to arrange black olives and speck in the serving platters and to slice bread.
We suggest to serve Franciacorta (a white wine from Lumbardy - Italy) or another white wine.
The doses for Russian salad are for 6 people while the doses for cherry tomatoes and mozzarella are for 3 people but you can vary them without any difficulty. You have to consider 55 g (2 oz) of speck for everyone and 75 g (2 1/2 oz) of black olives for everyone.
You can finish this meal with an ice-cream or sliced pineapple sprinkled with rum or another liqueur.
Greetings from Italy!