Themed dinner menus
Italian picnic menu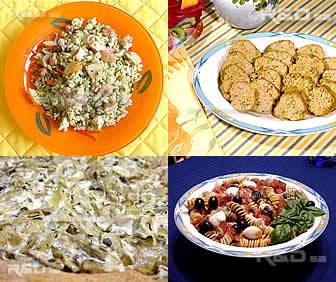 Italian delicious menu for your spring and summer picnics with antipasto, cold pasta, rice salad, meatloaf and cake
Tips
- A picnic in Italy is lived as a pleasant day spent outdoors in a beautiful place, in company of friends and relatives. In this occasion lunch can be prepared ahead and usually composed by cold, easily transportable dishes.
Another option is to bring along all ingredients for a barbecue and choose an outdoor area where you can cook meat or fish easily.
This page is dedicated to the first option. It can also be a nice idea for an Easter al fresco menu.
- All recipes for this picnic, Italy style serve 6 except for rice salad (increase its doses if your guests love it) and ricotta and artichoke pie. I would not modify any doses for this savory pie because it is only a starter.
- All recipes are very simple and satisfy everyone's tastes.
- You can prepare all dishes the day before and so fully enjoy the feast day!
- They are cold dishes but it is better to serve them at room temperature in spring.
- As you have read, first course is made of two recipes: pasta salad and cold rice. You can choose both or one of them.
- Accompany meatloaf with a seasonal green salad.
- Enjoy it!