Themed dinner menus
Italian summer menu with pasta salad and rabbit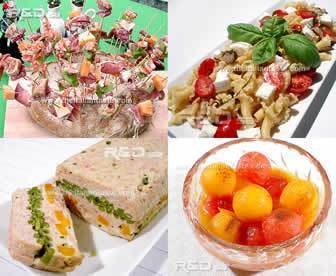 Summer menu, Italian style with all dishes you can prepare in advance!
- I like very much to plan menus where I can prepare all in advance and so enjoy the evening in full relax. This is one of those menus. You can prepare pasta salad, rabbit terrine and fruit salad in the morning and the only thing to do just before the arrival of guests is assembling the skewers.
- Spritz is easier to do than a typical cocktail and does not require equipment or even a particular skill.
-The menu is composed by dishes with non-aggressive flavors and so it is ideal for hot months.
- Here are some tips.
Remember to follow pasta salad directions carefully. Buffalo mozzarella requires attention.
Serve vegetable-and-rabbit terrine with a salad of tomatoes, feta cheese and black olives.
Serve your fruit salad with a ball of cinnamon ice cream (if you can find it) or almond ice cream.
- It's easy to calculate the doses for every dish according to the number of guests. In pasta salad page you can also find the doses per serving in "healthy eating".

Loretta