Starter (antipasto) is an unmissable dish in Italy when you have to celebrate or plan a get-together with friends and relatives at home or are at the restaurant. Few people give it up. Generally eating at the restaurant, my husband and I order it followed by a first course or a second course. Menu cards are always so tempting for appetizers ... there are a lot of differences from north to south of Italy. A great variety of proposals according to the season too.
Traditional, new tested recipes for seasonal and regional Italian appetizers
Assorted fish antipasto platter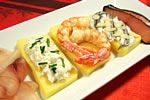 Do you like seafood dishes? looking for an idea to start your only-fish menu? This is a recipe of mine my family and friends like very much.

Assorted appetizer platter. From well matched and typical cold cuts of central Italy to classic crostini and frittata with black truffles, inevitable in an Umbrian menu.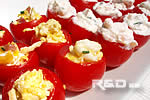 To make an Italian antipasto is enough to to fill cherry tomatoes! It is a long work but it's worth doing for your closest friends. Want to know the stuffing of tomatoes in the photo? scrambled eggs with bacon and ricotta cheese mixed with salmon ;))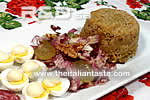 This plate of assorted appetizers is a great idea to open your full menus in September, October and early November. Its ingredients are: radicchio, grapes, the last flowers of pumpkin and beans. An unusual idea, but everyone who tasted it was enthusiastic.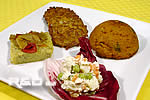 This photo makes you understand better than my words. Right?
Mini frittata made with lentils, single-serving cauliflwer flan, a polenta slice topped with caponata and a radicchio leaf filled with vegetarian Russian salad. Do you like this assorted platter? :))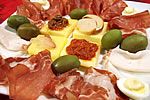 It is mouth-watering, isn't it? and it is fast and simple to do, indeed. Take a look at the page!