There are a lot of recipes for cooking duck. In my life in the north of Italy, I learned that n Veneto, for example, a typical pasta known as bigoli is topped with no-tomato duck sauce. In Piedmont, in Novara where I live, it is stuffed with rice, while in Friuli is filled with soaked bread, egg yolks, chicken livers, butter, sage and rosemary. In Lombardy it is cooked with cabbage. Tuscany is famous for its duck in orange sauce but in reality there is another recipe, less known, in which this bird is cooked with pine nuts, raisins and finally unsweetened chocolate powder is added.
And then there are new combinations :))
Italian duck recipe ideas, listed according their cooking method and main ingredient

s

Black olives and red wine are the most important ingredients for this recipe with duck. Ideal for your family menu when you want to cook something different and for your get-togethers in cold months.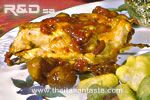 Duck is cooked in orange juice and flavored with limoncino too. Chestnuts are added at half cooking. It tastes fantastic. Ideal for Holiday season and your special get-togethers in fall and winter.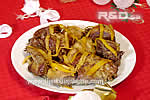 Everyone knows duck in orange juice. A perfect dish for Christmas dinner party in Italy. I show you two version of this Italian recipe. The meat is cooked with or without its skin.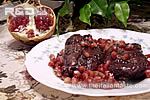 This is a refined recipe you can prepare in winter and especially on holiday season. This is a long-to-do recipe because you need a lot of time to remove kernels from pomegranate fruit and obtain their juice through a potato masher or a vegetable mill. But it's really worth.

Typical summer recipe when raspberries are in season. Easy-to-do dish but very tasty for refined and formal menus, Italian-style. You can make it for holiday season too with frozen berries.