Cockerel has a tender and delicate meat, ideal for children too. It is suitable for a lot of recipes. Have you ever tried to cook it on the plate or the grill, simply halved and flavored with Mediterranean herbs (rosemary, bay leaves ...)? It tastes fantastic and the recipe does not require long time too!
Cockerel recipes, listed according to their cooking method and main ingredients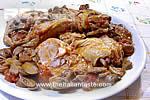 This tender meat works well if combined with mushrooms and chopped tomatoes. It's delicious. Autumn recipe.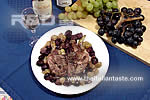 In Italy we have the habit to cook often meat together with seasonal fruit. I tested this recipe in my fall get-togethers with friends and relatives repeatedly. So I can safely recommend it to you!