Do you know how to call also guinea fowl? hen of the pharaoh from its Latin name Numida meleagris. I remember very well that when my parents decided to hold a chicken coop (it was the period of the crisis of the 70s), who had helped us to understand what to do, buy and breed, had strongly advised us against the pharaoh. He was a farmer in the area. At the time we lived in Umbria.
"It's bad! - he told us - it scratches easily!" In fact we tried to breed it only once! So I find somewhat strange to satisfy the legend that wants it as symbol of brotherly love. What do you think? ;))
Guinea fowl recipes, listed according to their cooking method and main ingredients
Baked, filled with couscous and cherries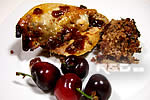 Its meat is ideal to be cooked together with fruit according to me. So this is my summer version with cherries. Mediterranean recipe ;)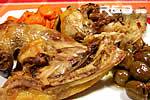 It's a recipe poor in ingredients. In other words the meat is flavored oly with aromatic herbs and olives but they are enough :)).
In the pot, orange juice and chocolate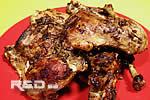 Italian cuisine is loved all over the world. But I think that people should fall in love not only for pasta dishes and pizza but for other recipes of ours too. For example our ability to combine ingredients ;)
In the pot, filled with frittata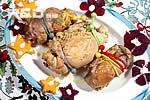 It's the perfect recipe to astonish your guests. Guinea fowl is boned, stuffed with frittata and rolled around it :)) Than cooked in the pot with Cointreau and orange juice.