Guinea fowl filled with couscous and cherries

( Faraona ripiena di cuscus e ciliegie)
Our original home cooking
Guinea fowl stuffed with couscous and cherries is baked and flavored with Cherry liqueur in cooking. Every spring I make this recipe after creating it a couple of years ago and every spring it is truly irresistible :)) Cooking meat with fruit is not an invention of our times, we Italians have been making it since Renaissance. However, not everyone likes meat and fruit combination. A lot of people prefer to cook meat with the addition of aromatic and spices or combined with sausages or cold cuts.
difficulty: easy
time: 2 hours
calories: 438 (kCal)
Ingredients / Serves 4
1 1kg (2.2 pounds)

guinea fowl

15

cherries

70g (2 1/2 ounces)

couscous

40g (1 1/2 ounce)

Italian

speck in a piece

1 bunch

fresh chives

20g (3/4 ounce)

unsalted butter

100ml (3 1/3 fluid ounces)

Cherry liqueur

1 1/2 tablespoon

extra virgin olive oil

Salt
Difficulty:

easy recipe

Time:

preparation:

30 minutes


cooking:

1 hour 30 minutes


total:

2 hours

How many calories in a serving?

Calories:

438 (kcal)

22 %

- 1831 (kJ)
Protein:

38.6 (g)

78 % GDA


Total fat:

15.8 (g)

23 % GDA


Total carbohydrate:

21.5 (g)

8 % GDA


Sugars:

10.4 (g)

12 % GDA
Download free PDF version (129 download).
Recipe for guinea fowl filled with couscous and cherries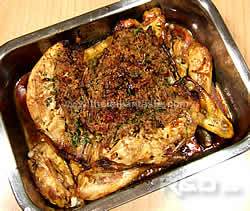 Preparation and cooking
- Prepare guinea fowl.
Eliminate entrails if still present.
Flame guinea fowl on the wings and where there are spikes of pens and feathers. The operation facilitates their removal.
Wash guinea fowl and pat dry with absorbent kitchen paper.
- Prepare ingredients for filling.
Clean and wash cherries, put apart.
Bring to a boil a quantity of salt water equal to couscous in which you have to melt butter too. Turn off the stove and pour in couscous. Mix very well and then let all rest.
Meanwhile clean and wash fresh chives. Pat dry with absorbent kitchen paper.
Remove stones from cherries and cut them into small pieces directly on the pan in which you've prepared couscous not to lose their precious juice.
Cut half of chives directly into the pan.
Add a tablespoon of Cherry liqueur too.
Chop finely speck and add to the pan.
Stir very well and season to taste with salt if necessary.
- Prepare guinea fowl for baking.
Preheat oven to 180°C (350°F).
Mix remaining Cherry and olive oil and pour into a baking pan that can contain guinea fowl well.
Fill guinea fowl cavity with stuffing.
Then close it with two long toothpicks, crossed.
Salt guinea fowl on its surface.
Put guinea fowl into the pan and sprinkle it with the mixture of olive oil and liqueur.
- Baking.
Bake for about an hour.
Every 15 minutes, turn guinea fowl and spoon with cooking liquid.
Remove the pan from the oven and allow to cool so you can trim its thighs, wings, and guinea fowl itself in half as you can see in the photo.
Sprinkle guinea fowl with cooking liquid and bake again.
Finish cooking. It will take about 30 minutes. Remember to continue to sprinkle guinea fowl from time to time, without turning it.
Just before turning off the oven distribute remaining chives, in little pieces.
Cooking times may vary because they depend on many factors. So you have to check yourself the situation.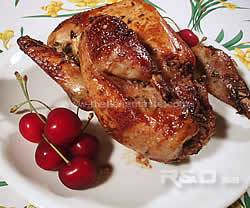 Just before serving
- When cooked, complete the portion division of guinea fowl putting aside its filling momentarily.
- Serve sngole portions on individual plates accompanying them with a spoon of stuffing.
Spray it with cooking liquid as you can see in the picture.
Note
Tips
- You can prepare this dish some hours ahead and divide into portions. It is even better.
Warm it up before serving.
- Look at the photo near here. In this case I served guinea fowl whole but it was a dinner party for my family ;))
Menu planning
- I always recommend not to serve food with bones and shells in a formal menu. This should already be a clear advice. Make your guests have troubles with knife and fork in front of delicious recipes can create frustration to them and can also cause mishaps, often embarrassing. Most of the time, very tasty food, made with lots of patience and attention returns almost untouched to the kitchen.
- So choose this guinea fowl recipe for your special occasions but only when celebrated at home with relatives and close friends.
- Serve guinea fowl filled with cherries and couscous accompanied by a seasonal green salad.
- Do you want an idea for a full Italian menu? Links to suggested recipes below.
Starter: choose your favorite recipe looking at our Italian antipasto index provided that it is made ​​with meat or salami.
First course: this dish with guinea fowl is very delicate and can be combined with a lot of pasta recipes provided they have no predominant flavors. I suggest ravioli filled with meat and dressed only with tomato sauce or ravioli filled with ricotta and spinach and dressed with melted butter and sage. Consult our fresh pasta index for more ideas.
Second course: this guinea fowl recipe
Dessert: there is no problem. Cherries are in season in summer (May and June) so I'd choose homemade ice-cream cake, Saint Honoré cake, a fruit tart (timeless and truly satisfying for all ages). In these months you could make a chocolate cake too, take a look at our index of sweets.
Useful links for this recipes
- I begin with the link to the page dedicated to Italian antipasto. You'll be able to find a lot of cold and hot recipe ideas for your full Italian menu.
- Here is the link to Italian fresh pasta. Do you prefer ravioli or tagliatelle? what is the favorite recipe of your guests? astonish them with an authentic Italian recipe :))
- Interested in desserts and cakes? follow the link!
Healthy eating
- Guinea fowl stuffed with couscous and cherries is an elaborated dish, rich in ingredients so it is obvious to expect calories that can't be limited. So if you don't serve it on a special occasion where you haven't to worry for nutrition facts it is important to combine it with a seasonal salad or raw vegetables to compensate for the fibers that are insignificant and not to add other calories.
- Fiber per serving: 1.9 grams
Loretta
What's the right wine for " Guinea fowl filled with couscous and cherries "?
My husband and I choose between Bardolino (red wine from Veneto) and young Grignolino (red wine from Piedmont) to match to my recipe of guinea fowl filled with couscous and cherries.