Christmas cornucopia ornament
Christmas decoration made with cornucopia for a table, a chest, a shop window ...
The cornucopia or horn of abundance is a mythological symbol of food and abundance, indeed. Usually it is filled with fruits and flowers. I'm going to show you my Christmas version. It will be very decorative at home, office or shop ... What about it? Do you like it? A gorgeous handmade decoration with step-by-step directions.
You'll need
- A cornucopia
- White felt or silk hydrangeas
- White silk flowers, sprinkled with artificial snow
- Synthetic red apples
- Synthetic twigs with red berries
- Synthetic pine-tree branches
- Golden butterflies
- and ... all the Christmas ornaments you have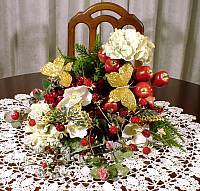 How to decorate a cornucopia for Christmas
- Adapt the lenght of your flower stems before inserting into your cornucopia.
- Begin to create your floral Xmas arrangement.
- Insert pine-tree branches and then flower stems, alternating colors.
- Insert berries and apples too.
- Finally add other pine-tree branches to hide visible stems and branches.
- The last touch: golden butterflies.
- For more details click on photos for their enlarged images.