The Art of Receiving Guests
Furniture Christmas decorations
Some people like so much Holiday Season not to be satisfied only with the traditional decorated pine tree or wreath or nativity scene; they wish to decorate other corners of their house. But there are also a lot of people who have large areas or special occasions to plan; therefore they are forced to do something more. In this page you can find many ideas for DIY decorations for furniture, easy to make.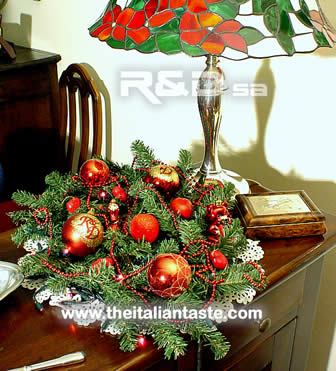 DIY Christmas decorations for your home, office and shop
On this page I have collected my craft ideas to decorate various corners of your home, office or shop for the Holiday Season. There are silk flowers arrangements in crystal vases suitable for tables or shop windows. Or nice decorations with bundles of twigs or bamboo for smaller spaces. Some ideas to adorn long, narrow areas, even fireplace shelves. An idea to fill a jar with Christmas branches that decorates strategic corners immediately. There is a classic cornucopia, a symbol of good luck and abundance.
I also use decoupage technique to decorate boxes or plates as ornaments or gifts.
Our projects to decorate every corner of your house at holiday season
Let's begin with Christmas flower arrangements
And let's go on with boxes, plates, trays ...
Gold leaf technique for your trays or plates

The technique of gold leaf in this case is used in a different way and then the hand-decorate platter is filled with pot pourri and Christmas balls. Isn't it very beautiful and refined? And then with a few touches it turns into another decoration that you can exhibit all year.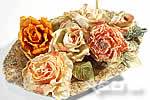 This page shows you how to change the platter decorated with gold leaf technique and turn it into a decorated object to be exposed in all seasons of the year.

If you have a very special small gift, you have also to think about how to wrap it. But a special gift may not be too expensive. In both cases if it is hidden in a hand-decorated box, it becomes twice as much!

These boxes are delicious as personalized gift or to hide another present too. If you also treat their inner part thay may be used as jewelry holder or for what suggests the fancy.
And now a mix of new ideas ... to recycle something old ;)

Among your old Christmas decorations there are often some beautiful objects that remind you past years. So you do not have the courage to throw them away. It 's easy to bring them to new life by creating different ornaments. Sometimes you just need a little imagination and some new purchase. Your old decorations can be recycled easily!

This idea is really very easy to make and has another advantage: you can recycle your old Christmas tree balls! In fact, as you can see in the photo, you need only a pine garland, some apples, a chain of beads, your balls and ... you have it!

Lanterns are very trendy in Italy. Small or large. Black or white. They are suitable for lots of different Christmas solutions and don't occupy too much space. A crib? a centerpiece? the fairy's house?

The idea of this decoration came to me when I found new Christmas tree balls covered with felt at IKEA. This is a modern decoration without excessive sparkles.

This decoration for furniture is one of my favorites because I love red. Red for me is Xmas. Its ribbons are made fabric and embellished with very cheap but effective crystal buttons. The final touch is red tulle in the center. What do you think about?