This besom, realized for Christmas, is very easy to do but very beautiful.
It will surprise your family and your guests.
It has a definite significance: to sweep away all your troubles ... so it should be put at the entrance but you can choose every place of your house according to your fancy.
If it is impossible to find a golden besom, you may paint an old one with golden spray.
Let it dry and then set holly and roses. You have to insert their stems among the sprigs of sorghum.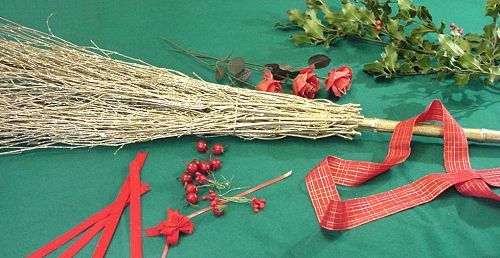 Then knot the little red velvet ribbons and the varied red decoration in the upper besom.
At the end wind the golden and red ribbon round the handle.
Cut the ribbon and then cut the other part into two halves.
Knot these two halves in order to obtain the same result in the photo.