The Art of Receiving Guests
Italian wall Christmas decorations
I like to decorate my front door at Christmas time. It welcomes us and then all our guests. I do not make always the traditional wreath. Here are some other craft ideas from the most common to the most innovative. I've also added decorating ideas for walls because space in modern apartments are smaller and smaller and so you need to find alternatives to bulky decorations.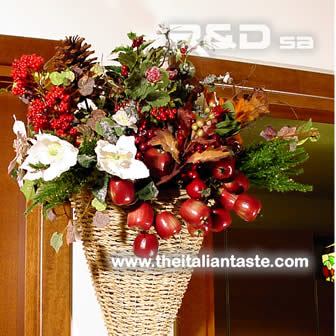 Wall or door Christmas decorations different from garlands
If you don't like the usual wreath particularly or are tired of it here you can find different ideas for decorating your main door at Christmas. The same decorations can also be hung indoors, on your walls. There are proposals to decorate pine branches, a hand-painted linen panel, polystyrene angels and moon properly treated, a very versatile feather boa, a golden broom that has been a source of inspiration and other decorations for New Year's Eve.
DIY Christmas decoration ideas for main door or indoor walls