Red berry Christmas wreath
DIY Christmas wreath for your main door
Many Christmas decorations can be made very simply reusing old ornaments. It's the case of this wreath to be hung outside the door, in the shop window or on a wall. Sprigs of red berries, variegated ivy and white silk roses are a beautiful sight. Do you agree? ... and your door wreath will be very original, unusual this year!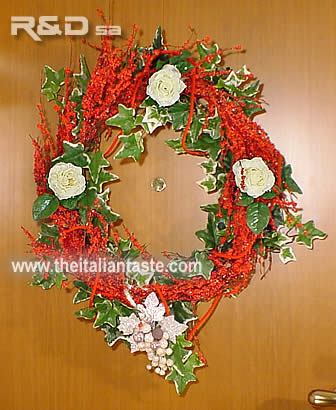 You will need
- A very long branch of silk variegated ivy
- A lot of red berry sprigs
- 3 white silk roses
- Christmas grape cluster
- A long red cord
- Artificial snow for Christmas decorations
- Iridescent flakes
- Spray glue
- Hot-glue gun
- Thick iron wire
- Green florist wire
- Scissors
- Cutting nippers
Berry-and-ivy Christmas wreath How-To
- Form a circle the size you want with thick iron wire.
- Fix the ivy branch to the circular wire form with some little pieces of green florist wire.
- Then stick the red berry sprigs, one after the other, together with the ivy and the wire form using the hot-glue pistol. To get a good look use a lot of sprigs and incline them differently.
Look at the photo to see more details.
- Prepare the roses.
Remove their stalks and spray the glue over them.
Then sprinkle the roses with artificial snow and iridescent flakes.
- Then fix the roses on the red wreath using the hot-glue pistol.
- Fix the grape cluster too.
- Roll up the red cord and fix the ends behind.
- Your berry-and-ivy Christmas wreath is ready!
If you want, you can spray all the wreath with glue and then sprinkle with artificial snow.
Note
- We specified no amount for all the materials because they depend on the size you need. You can use other Christmas decorations and more roses, if you want.
- You can buy decorated roses and a red berry wreath base, so you need less time.
Another tip to save time: use floral foam wreath but be careful: you'll need more ivy and berry sprigs!
- The circular wire support must be very hard. If you find a wire with a diameter of only 1.4 mm, remember to triple it.
- Apply some good chair felt pads on the back of your wreath to avoid damaging the door.
Rate this!
Rating: 5 / vote cast: 1