The Art of Receiving Guests
Italian Christmas wreaths
This page is dedicated to DIY Christmas wreaths. There are several ways and techniques to decorate the classic wreath following the tradition or new trends. I know perfectly well that I'm invading a field traditionally linked to the United States and English-speaking countries but I think that, by now, even Italy has to say something about it ;)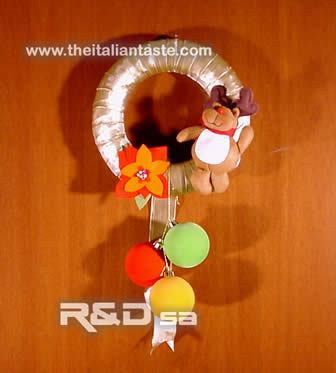 How to make a Christmas wreath for the main door
First of all, you can use a lot of supports: wicker, polystyrene, floral foam, pine ...
Then the ornaments too: from Christmas balls to ribbons, from silk flowers to feathers, from berries to cinnamon sticks, from puppets to pompom ...
You can prepare your holiday season wreath for children or with children.
The best techniques for making wreaths? everything you know or your imagination suggests: from decoupage to needle felted wool, from painting facilitated by templates to sewing art ...
Our DIY Christmas wreath projects
Here is the list depending on the materials used , divided by the support and ornaments
And then remember there are not only Christmas wreaths for doors and walls ;)
Other door or wall Christmas decoration ideas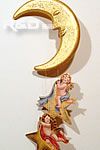 How about a painting, a hand-painted linen panel, a basket, a fresh or synthetic pine branch ... ?