Christmas arrangement in vase
Gold-sprinkled roses inserted in sand and small pebbles layers
Look at my Christmas arrangement made with few white silk roses ... refined, elegant and simple! What about it? Write your opinion at the bottom of the page and make us know if you like it.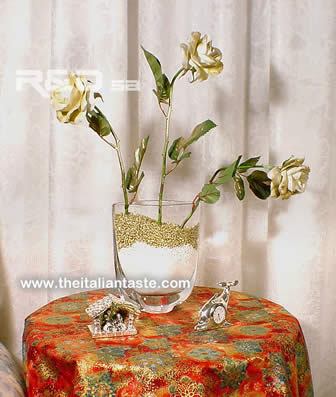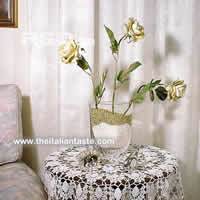 This Christmas decoration is very simple to do but extraordinaliry elegant and refined. Many people will envy it.
It's the ideal Xmas ornament for a table (little or great) or for a corner modifying its proportions.
It's delicate and fashionable and you can decorate your room only with it.
You can also adapt it modifying only little details as you can see in the two photos.
Christmas arrangement How-To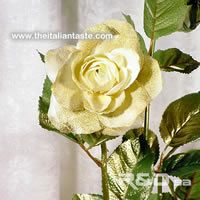 - Choose different kinds of sand (look at the photo for more details) and gild the third part.
It's easy to gild sand.
You have to scatter it on an old newspaper page and color with the spray.
Let sand dry, mix it and color again.
Repeat until all your sand is well gilded.
- Meanwhile shorten rose stems according to your vase and gild them too.
Be careful not to gild them uniformly: your composition could be no more refined!
- Fill your vase with the different kinds of sand: the last layer must be made with gilded sand.
- Insert flowers in the sand layers with a determined movement not to mix the various types of sand.
- Your arrangement is ready!
Rate this!
Rating: 5 / vote cast: 1