Christmas decoration with bamboo and flowers
Few bamboo canes are tied together with silk flowers for a refined adobe
What about a nice-to-see and easy-to-do Xmas decoration made with bamboo canes and silk roses? Besides it's a cheap ornament, ideal for your pieces of furniture or as centerpiece too.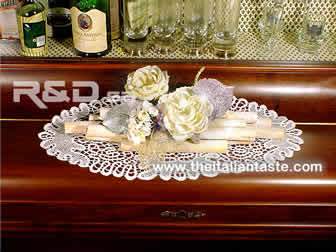 This Christmas decoration is very simple but you need a couple of days to do it because you have to let it dry very well. Besides it's a low-cost decoration.
You can place it on a piece of furniture in your home or shop-window if you've got a furrier's shop or a jewelry ... But you can use it as a centerpiece too for your table. In fact it is little, it doesn't scent and you can adapt it to very kinds of table (very cool on a wooden table!).
Besides you can decorate your home or shop for all winter: you have only to change its ribbon and substitute it with a white one.
How to make a Christmas decoration with bamboo and silk flowers
- Cut bamboo canes into pieces of different lenght as you can see in the photo.
You can use a little saw for making it.
- Remove any remaining dust from every bamboo piece.
- Brush acrylic paint on the half of each bamboo piece.
- Let them dry perfectly and then color the other half.
- Meanwhile cut flower stalks in order to leave a little piece that you have to insert among the bamboo canes.
- Then sprinkle flower petals and leaves with artificial snow here and there.
- Let flowers dry well.
- At this point make the composition of bamboo canes as you can see in the photo using glue.
- Insert rose and hydrangea stalks among canes using some drops of glue.
- Let all dry very well.
- Knot the ribbon and sprinkle bamboo canes with artificial snow here and there.
- Wait some hours before placing it where you want
- Your Christmas decoration is ready. It's easy to do, isn't it?
Rate this!
Rating: 5 / vote cast: 1