D.I.Y. Advent Calendar
Let's make Advent Calendar with our kids to get into the holiday spirit
Advent calendar I'm going to describe you is made of a knitted wool panel on which you have to paste the numbers of days from December 1 to Christmas Eve and characters of Nativity Scene.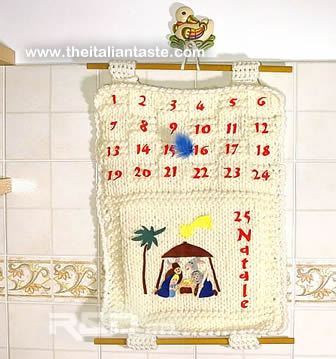 Make this Advent calendar with your kids! It's a splendid opportunity to spend some time with them and listen to them!
I thought to make it in a very easy way except for the panel. In fact it is knitted.
While you are knitting, your children could prepare the numbers and different pieces of the Christmas crib.
Handmade Advent Calendar How-To
- Choose a wool for thicker knitting needles (size 15-17) but use size 13 in order to obtain a close-woven panel.
- At first make a board formed by 4 rows of 6 squares.
- In every square you have to put the number for every day from December 1 to Christmas Eve.
- You can realize this board alternating plain stitch with garter stitch or according to your taste.
- At the end you have to complete your panel working stocking stitch.
- If you want to see more details, click on the photo for an enlarged image.
- Border your panel with a row of double (single for U.S.A.) crochet or in the way you prefer.
- Your children could prepare the numbers and images of Christmas crib or another Christmas image.
- Here are some clipart with Nativity or other topics and the numbers I used. Free download.
- Santa Claus »
- Santa Claus »
- Nativity »
- Glue all pieces on the panel after cutting them out of fine felt.
- Use a little, colored feather for showing the date.
- For more details look at the enlarged photos.
The history of Advent Calendar
The Advent calendar was published in 1908 in Munich by Gerhard Lang for the first time. He wanted to go on with his mother's idea. She made a colored calendar for everyone of her family at Christmas; the family was numerous and very poor.
In the next years new ideas were added to the original and so the children, opening the window of the day, could find even a sweet.
Rate this!
Rating: 5 / vote cast: 1