New Year's Eve decoration
New Year's Eve inspired hanging panel for your main door
Looking for decorating ideas for your New Year's Eve party? what about this nice hanging panel with current year going out of a glass and coming year entering another glass? Hang it on your main door or a wall. Make it with your children and enjoy this decoration!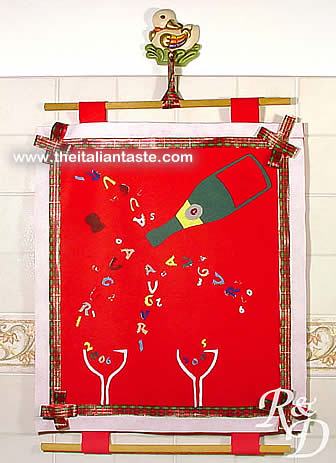 New Year's Eve inspired hanging panel How-To
- Cut red felt into a rectangular shape (50x45 cm - 20x18in).
- Cut white fine felt into 4 strips with the same dimensions of the panel and glue them on its perimeter.
- Cut ribbon into 2 85cm (34in) long pieces and 2 80cm (32in) long pieces and glue them after the white strips on the panel.
Look at the image and the enlarged one for more details.
- If you want, you can download the file with the bottle and number pattern.
Substitute the word auguri with Happy New Year.
If you don't like the font, you can substitute it.
- Cut fine felt to have all the images and glue them recombining the drawining as you can see in the photo.
- Cut some white fine felt to have the profile of 2 glasses.
- Glue the numbers of the years as you can see in the photo.
- Let your panel dry very well for at least 24 hours.
- Then follow the outline of every number and letter with the golden marker.
- Prepare 4 little rectangles in red fine felt and glue them on the back of your panel to have four loops.
- Let your panel dry very well.
- Insert the wooden sticks and then hang it on the wall or your main door.
Naturally you can use it in the next years substituting the final number of the years.
Rate this!
Rating: 5 / vote cast: 1