DIY Xmas decoration with new trend ornament
How to make new Christmas decorations with not-glittered items
Nowadays many people prefer something more sober to too shiny and glittery ornaments. I suggest you a decoration that responds to new trends. The larger balls are velvety, the smaller balls are partly polished and partly opaque. The composition is made on a light wire mesh. Very nice-to-see, isn't it?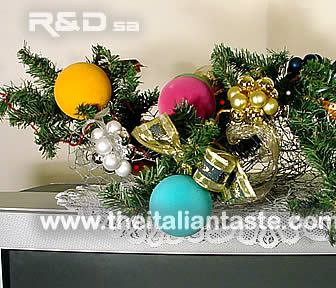 You'll need
- Very light wire net
- Artificial pine branches
- Medium size Christmas balls of different colours and covered with artificial velvet
- Groups of 12 little Christmas balls (6 glossy and 6 dull) in different colours: gold, silver, blue and red
- Christmas ribbons with different colours and decorations
- Battery-operated fairy lights
How to make a modern Christmas decoration with not-glittered items
- At first you have to choose where you want to place this Christmas decoration.
- Buy the wire net keeping in mind you have to fold it up many times.
Multiply your dimension by four.
Model your wire net according to your fancy but remember to give it some volume.
- Place your fairy lights inside the wire net(battery boxes included).
Be careful to be able to switch on and off the lights easily every time you want.
- Place pine branches in order to hide the wires and battery boxes.
- Choose ribbons of different colors to match them very well with your little and medium size Christmas balls.
You can also use old Christmas ribbons.
Pass a ribbon through the hooks of all little balls with the same color.
At this point pull the two ends and tie them.
All little balls will join up into an only sphere.
- Place the sphere on the wire net using the same ribbon.
Tie the two ends in a bow.
- Use all little Christmas balls making more spheres.
- Arrange velvet balls in different points of the net using little ribbons.
- Look at the photo for more details; if you zoom the photo you can enlarge the image.
Rate this!
Rating: 5 / vote cast: 1