Easy Christmas decorating idea for furniture
A pine branch, some red ornaments, red fairy lights ... easy-to-do Christmas decoration!
This Christmas decoration is very simple; you can make it in few minutes using old decorations of the previous years. But be careful! the piece of furniture where you want to place it must be near a socket. This decoration can substitute Christmas tree if you have no space.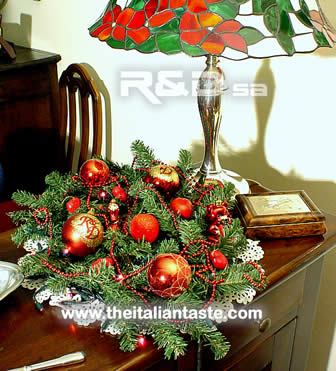 Easy Christmas furniture decoration How-To
- Give the garland the shape you want: circular, ovoidal or irregular according to the suitable space and your fancy.
- Place it on the piece of furniture.
- Twist the fairy lights together with the pine branch, try to hide them.
- Arrange red decorations and red ball strip trying to hide the fairy lights.
- Your decoration is ready!
- Look at the image for more details and click on the photo to enlarge.
Rate this!
Rating: 5 / vote cast: 1