DIY Christmas silk flower arrangement
Gold-sprinkled white, cream and orange roses matched with fall branches in a vase!
I created this flower arrangement for Christmas with fall colors in my mind. But just because fall colors are warm they are very suitable for Holiday Season according to me. This arrangement in vase can be placed on a table, a chest, a furniture or even in a shop window or on the counter. Very fine Christmas adobe, do you agree? Unfortunately not cheap.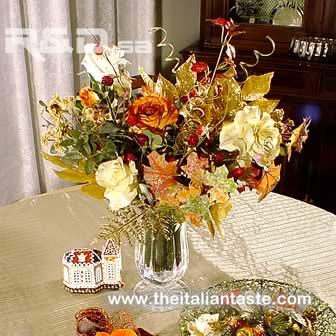 You'll need
- White silk roses
- Branches of cream-colored silk little roses
- Orange silk roses
- Branches with fall leaves
- Branches with golden leaves
- Golden branches or other golden decorations
- Golden spray colour
- Spray glue
- Different iridescent colors in powder form
- Synthetic moss
- A pair of shears
DIY Christmas silk flower arrangement in vase How-To
- The first thing is the choice of items.
Choose colors in powder in order to sprinkle them on fall leaves (red and green) or on silk roses (white and orange).
Choose golden and silver colors too.
- Shorten the stems of silk flowers to the lenght you want.
Use the pair of shears to do it.
- Spray glue on the piece you want to decorate (a rose or a leave) and immediately sprinkle it with the suitable colored powder.
Don't let the glue dry!
Use red powder on the red pieces of the leaves, green powder on the green pieces and so on.
- I sprinkled some white roses with golden spray.
- Look at the photo for more details and click on it to enlarge.
- If you want, you can buy Christmas flowers and branches but they're more expensive.
- Arrange all branches and flowers in a vase after placing the moss inside.
- After arranging your ornaments complete with other moss to hide all stems.
- Your decoration is ready!
Rate this!
Rating: 5 / vote cast: 1