Easy and quick Christmas decoration ideas
Very easy decorations for your Christmas table, furniture, shop counter or window ...
It is not difficult to make a Christmas decoration. I'm going to explain to you how to use old Christmas ornaments to realize new decor.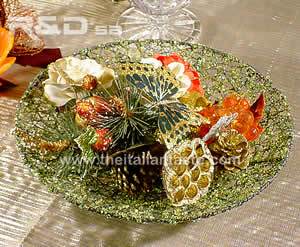 How to make simple and quick Xmas decorations with new or old ornaments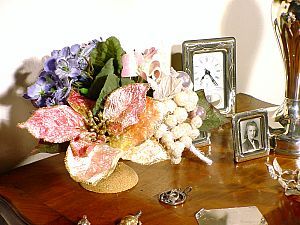 - Here's my first example.
Buy a Christmas platter.
I used a platter made with little green crystals.
Arrange some golden apples, glittered fruits (red and orange-colored), pine cones, a butterfly ... all that you have got with well-combined colors.
You have a new centerpiece or a Christmas decoration for a piece of furniture!
- Another example with different colors.
Paint with a golden color an old fruit stand or a cake stand.
Arrange some pink and purple crystal grapes, pink poinsettias, blue flowers (sprinkled with iridescent color) and other flowers.
You have a precious centerpiece for a refined Christmas table!
It's perfect with a white table cloth and pink-colored china set.
Rate this!
Rating: 5 / vote cast: 1