Traditional Christmas centerpiece How-To
Handmade Xmas centerpiece with red ornaments: balls, flowers, candle, dried fruit
This centerpiece is beautiful for its colors, only red and orange. The differences are in their shades.
So I chose transparent, opaque and bright red Christmas balls, orange silk roses with a touch of gold. Finally candle: it turns more to red. Beauty is subjective: I think it is the perfect combination of colors. And you, what do you think about?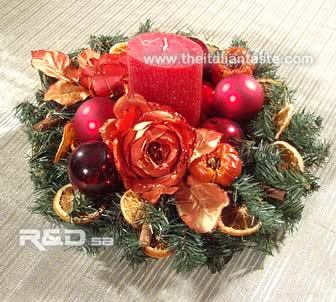 How to make a classic red centerpiece to adobe Christmas table
- Look at the photo and its enlargement for more details.
- Choose a large plate.
- Roll artificial garland on its edge.
- Put candle in its centre and Christmas balls between candle and garland.
- Arrange roses among Christmas balls in order to hide their stems.
- Put orange slices, cinnamon sticks and other dried fruit among pine branches.
- Use this decoration to adobe your Christmas table but don't light the candle!
You can also use it for a piece of furniture or little table.
Rate this!
Rating: 5 / vote cast: 1