The Art of Receiving Guests
Table Christmas decorations
We all look for something special to set our table during Holiday season and especially at Christmas. We have an entire section for the art of setting the table and centerpieces so you can find a lot of ideas there. Link below! On the contrary, on this page we have collected specific proposals that can be used as a centerpiece but to adorn a piece of furniture or a table too.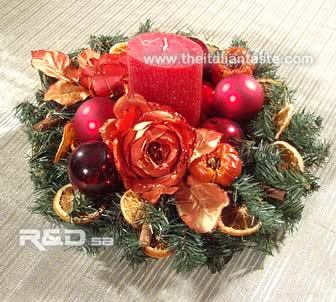 DIY ornaments for Christmas table
Setting well the table helps to create the right, warm and welcoming atmosphere.
It is in such an occasion that comes out the personality of each of us. Mine is versatile because, as you can see, I really like natural style but also classic decorations with beautiful shiny balls. All this website shows this feature. But I believe that what is common to these seemingly opposing trends is my love for color and harmony. And these goals can be reached with both the elements that gives us nature and man-made objects ;)
How to make ornaments for Christmas table
Let's start with some special Christmas decorations, special because fast or easy or multipurpose ...
Poinsettia
members-only area
Very very beautiful and refined. However, you should have a long and wide table. Easy and quick to do. In fact you need only 5 minutes to do it.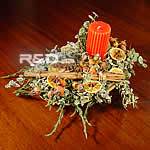 All natural this centerpiece for you that love decorating your house and table with stuff of garden or woods. However, if you like it and plan to make it, you mustleave rose berries on the plants in fall ;)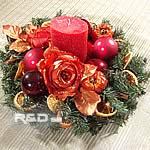 What about this arrangement? it's traditional but be careful to choose well all the stuff and combine colors, only different hues of red ...
This is the only difficulty. You can use it to decorate a table or another piece of furniture too!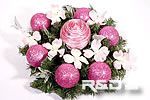 Colors can often make the real difference for a every kind of decoration. And to create a nice atmosphere you must match the colors of your decorations with your furniture. In the same way centerpiece must pair with dinner service and table cloth.
... And let's continue with other ideas setting your table ata Christmas and New Year's Eve
Craft ideas for holiday season table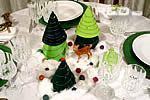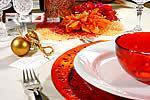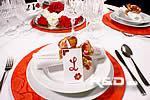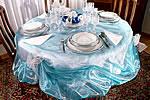 I look at this topic from the point of view of a woman who always has the same sets of dishes and glasses, and every so often a new tablecloth. Take a closer look at my Christmas table. Worth it!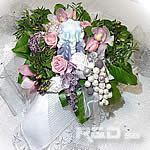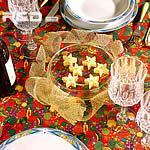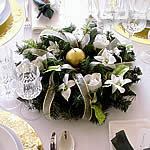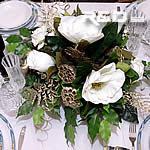 The centerpiece can be evaluated from two points of view. The object or flower arrangement that enriches and changes the table or a bulky thing that takes away space. To overcome this last drawback you can use edible centerpieces ;)) But there is also another solution. Remove it as soon as guests arrive, place it on a little table or furmiture within eyesight and thus make room for serving dishes. I speak of this topic and more in the directory