Christmas outdoor wall decoration
How to make a wall decoration for the balcony in Holiday Season
A long pine garland hanging on a wall, decorated with balls, berries, flowers and fairy lights can be a new adobe idea for your portico, balcony or simplier main door in Holiday Season. You can recycle your old ornaments too to make it.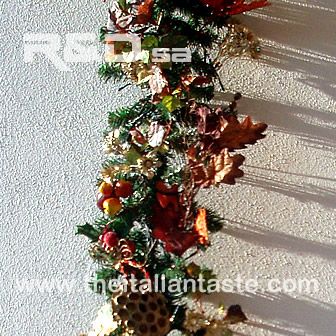 How to make a simple outdoor Christmas decoration with a pine garland
- Choose a garland suitable for the place you have chosen.
- Wind LED lights around the garland.
Use battery-operated LED lights if you don't want wire in full view.
- Hang your garland to the wall.
- At this point arrange all ornaments you have to hide light string.
For better effects spray fall leaves with glue and then sprinkle glitter flakes of the same color (red on red, green on green, gold on yellow ...).
- In any case use the ornaments you prefer and have got.
- You'd have the best results with natural material (a long branch of real live pine, dried fruit, holly and Christmas dried flowers).
Obviously no lights!
This natural decoration isn't made to last for a long time, so you should prepare it few days before Christmas.
Rate this!
Rating: 5 / vote cast: 1