Simple Christmas windowsill decoration
Nice Christmas ornament for your windowsills. You'll need only lace and little balls
Would you like a simple Christmas decoration in every room? Do you have no space for Christmas tree but you don't want to renounce to Christmas decorations? Here it is the solution: Christmas balls linked with a gold zig zag and fixed on the windowsill! It's easy-to-do!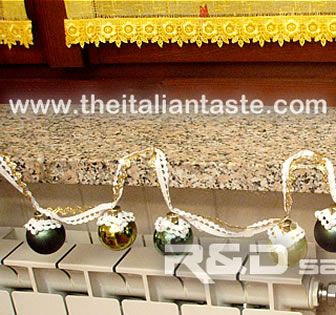 Simple handmade Christmas windowsill decoration How-To
- Choose Christmas balls with colors well paired with predominant colors of your room.
- Then choose lace and cord according to these colors.
- Cut out 2 metres (78in) from lace and then in pieces long enough to be glued around the top of a Christmas ball, pleating it.
- Link all Christmas balls with remaining lace and zig zag.
- Look at the photo and its enlargement for more details.
- Fix Christmas ball ornament on the windowsill with adhesive tape or patafix.
Rate this!
Rating: 5 / vote cast: 1