Handmade little Christmas tree with pot pourri
Christmas tree on cone-shaped floral foam with berries and pot pourri
This little Christmas tree is very nice and it can also be fragrant if you choose perfumed pot pourri. But be careful: you should buy sentless pot pourri if you want to use this tree as Christmas centerpiece! You can place this ornament for Holiday season on a bureau, a chest, a table and use as decor even all winter.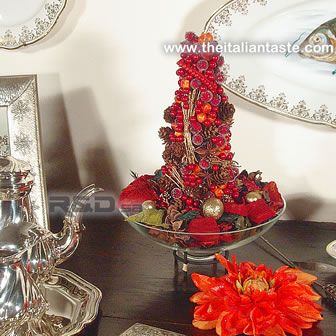 You'll need
- A crystal epergne
- A pot pourri sachet
- Little gold bundles of twigs
- Two different kinds of artificial red berries, stemmed
- Artificial orange berries, stemmed
- Little pine cones
- Gold little balls
- One floral foam cone
- T-pins and U-shaped pins or floral wire green 40cm (40in)
- Scissors
How to make a simple Christmas decor with pot pourri
- Choose all that you need very carefully.
For example prefer stemmed berries otherwise you'll have to use T-pins or U-shaped pins or pieces of floral wire and this operation isn't always so simple.
- Making this tree will try your patience but the result is very nice as you can see in the photo.
- Insert bundles of twigs, red and orange berries, pine cones and some little pieces of pot pourri in the foam cone patchily.
Look at the photo for more details.
- Place your con, once finished, on the epergne and sprinkle around all remaining pot pourri.
- Arrange all gold balls among pieces of pot pourri.
When holiday season is finished you'll be able to keep them away.
But I think it isn't necessary: gold is in fashion in Italy all year and so you can see gold shoes and purses, gold fabrics and even home fabrics used ever day.
Rate this!
Rating: 5 / vote cast: 1