Handmade Christmas decoration for kitchen
Rustic decoration with berries and fruit for holiday season in kitchen or dining room
This is a perfect Xmas decoration for your kitchen or dining room. It is made with synthetic but beautiful-to-see berries and fruit. I know very well there are many people who are fond of fresh items for their own ornaments but I think it can be a good idea for outdoor wreaths or garlands. Our homes are overheated for our decorations can last a long time. That's the main reason why I prefer good-quality synthetic branches, berries, flowers ...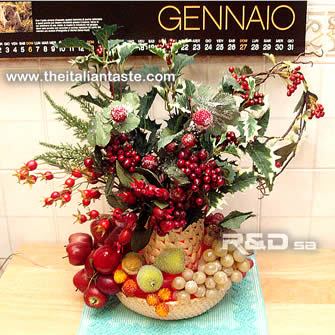 You'll need
- One round bread basket
- One cylinder basket
- Artificial pine branches
- Artificial holly branches
- Artificial branches with assorted red berries
- One cluster of artificial red grapes
- One cluster of artificial white grapes
- Artificial green pears
- Artificial red apples
- Artificial red and orange berries
- Twinkle little LED lights
Handmade, simple, long-life Christmas decoration How-To
- Choose a place for Your Holiday decor near a socket.
- Place LED lights inside bread basket and then inside cylinder basket.
Let wire goes out from the back in order to hide it.
- Arrange branches into cylinder basket and fruit in bread basket as you can see on the photo.
Hide lights as much as possible.
Look at photo enlargement too for more details.
- Your decoration is ready!
What makes LED lights better than regular old twinkly Christmas lights? Well, here are a few points:
- Advanced LED technology
- Bulbs are fade, chip, peel, and break resistant
- Cool to the touch when lit
- Ultra low power usage (4.8 Watts)
- Up to 76% power savings compared to super bright mini sets
- 25.000 hour average bulb life
- Connects end-to-end
Rate this!
Rating: 5 / vote cast: 1