Green and gold Christmas wreath
Christmas wreath for main door or shop window made with fabric and gold ornaments
This Christmas wreath is very decorative and elegant and can be placed on your front door, inside on a wall or fireplace, in a shop window hanging from a light panel or even on a mirror as you can see on the photo. I don'y specify its size depending on where you want to place it. Once made your choice, you have to calculate its diameter and consequently the length of your fabric and golden zig zag. In fact this wreath can be large, medium or very small.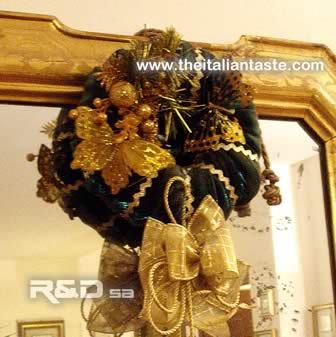 You'll need
- Styrofoam wreath
- Iridescent green gold 100 Polyester
- Gold zig zag
- One green & gold butterfly
- One gold butterfly
- Very little artificial pine branches
- Assorted gold Christmas balls, stemmed
- One gold bow
- Little gold Christmas bells
- Gold string
- Pins
- Scissors
simple garland with fabric and golden ornaments How-To
- This Christmas wreath is not difficult to do despite appearances.
Look at the photo and its enlargement while crafting.
The most important thing is choosing colors of all ornaments to pair them very well.
To confirm what I've just written I chose dark green and gold because these two colors are very elegant paired together.
Fabric should be fluffy, not opaque, and with some gold reflections that recalls other decorations. It's the reason why I chose iridescent green gold 100 Polyester.
To facilitate your work choose stemmed balls to insert them better into your wreath.
- Roll fabric, that should be light and abundant, around your wreath so that it can be tightly covered.
Fix it to polystyrene with many pins.
- Then roll zigzag starting from the back and securing it with pins to polystyrene.
- Place butterflies and fix them with pins too.
- Now place sprigs of pine and golden balls.
Make very small cuts in the fabric to insert the tip of green and other decorations.
- Look at the photo to know where to put gold bow and bells linked with string.
- If you want to hang your wreath on a door, use nylon string. Being transparent, it is great for this use.
Tie a very long nylon string piece to the top of your Christmas wreath, pass it over the door and finally tie to the handle of the opposite side.
Rate this!
Rating: 5 / vote cast: 1