Trimmed pine decorated for Christmas
A little fresh trimmed pine becomes a Christmas tree with few ornaments
This is a nice idea to adobe your house, office or shop if you have no space for the traditional Christmas tree. Adobe a trimmed fresh pine. After Holiday season you'll have a very beautiful green fresh plant.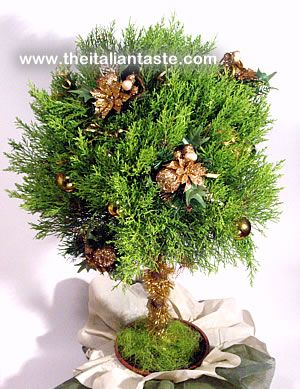 How to decorate a trimmed pine and turn it into a nice Christmas tree
- Cover pine vase with the two different kinds of paper.
Tie them around your vase with golden ribbon.
- Twist your glittery garland around pine trunk as you can see in the photo.
- Arrange green straw (or green moss) on the earth.
- Hang golden balls to pine branches with golden ribbon.
Subdivide ribbon ends and curl them with scissors or a knife.
- Hang the other ornaments you've chosen in the same way.
- Look at the photo and its enlargement for more details.
Rate this!
Rating: 5 / vote cast: 1