Christmas tree with bird story
A new idea for trimming a Christmas tree: a story gets into reality through a decorated pine
This Christmas tree is my first idea about a new line of Christmas trees. I called them: story-teller Christmas trees. In other words I suggest to adorn your Christmas tree according to the story-line of a fairy tale. A fairy tale? which fairy? Fairy Elle (link below) a new fairy that lives at Bosco. She has great magic powers. For example while she is reading a new story, a pine of Bosco dresses up and becomes a wonderful Christmas tree. You could suggest your kids to cast their own spell as Fairy Elle does, decorating your pine for Christmas in the same way.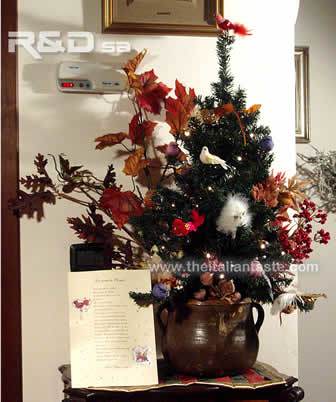 You'll need
- An artificial pine
- Multi function LED string lights in white color
- Birds in different colors and size
- A particularly striking bird that will be the top of your Christmas tree
- A4 sheet to print the bird story
For a better setting: winter and fall branches of different plants with berries too, mushrooms and a little fairy that can represent the fairy of a wood.
How to turn a story in a Christmas tree
- Christmas is magic. Live this magic with your kids to feel better rediscovering the real moral values of Christmas with them. According to us Christmas can't be only the commercial holiday that is it can't be only many gifts wrapped in colored and sparkling paper and a gorgeous meal. Many times we hide lacks in this way. Christmas must be the time where rediscovering the human relations and first of all we have to find the right time to spend with our children. And everything can start creating the right atmosphere of a Christmas tale. We offer you not only to read a story but to recreate the same story trimming your Christmas tree.
- Trimming this Christmas tree that tells the story of a bird called Christmas is very easy.
It's enough to get a lot of different birds, multi function LED string lights and an artificial pine.
It can be also a little Christmas tree to place in your kids' bedroom.
Begin arranging the lights on the pine and setting them to simulates the stars in the sky.
Then place the birds.
Remember to put the most beautiful on the top.
- Then prepare your scroll that must accompany your Christmas tree.
Download and print the bird story using an A4 sheet.
Decorate the scroll with your children according to your and their fancy.
For example we took some photos of the characters, cut out and glued them on the sheet.
You can also use glitter pens or iridescent powder ...
Then place the scroll near the Christmas tree. It's ready!
- The story of the bird whose name is Christmas is a fairy tale read by Fairy Elle.
Visit her website to know better this fairy kid, her friends and enemies, her adventures.
Come and read her website all year.
Rate this!
Rating: 4 / vote cast: 3