The Art of Receiving Guests
Italian Christmas decorations for kids
Christmas is the most wonderful time of the year for everyone. But if there are children in the house, it becomes really special. As long as we adults devote them time and attention. It does not take much. Doing simple Christmas decorations (scissors, old magazines, glue and a little fancy sometimes are sufficient). Reading together fairy tales. Making together the houses or characters of the nativity scene. Making the garland to hang on the main door. And above all, playing.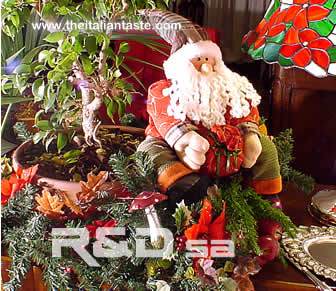 What kind of Christmas decorations can you make with your children?
Everything: Christmas trees, nativity scenes, garlands, outdoor decorations, centerpieces, gifts ... everything you need to decorate your home or plan Holiday season.
The important thing is these crafts are easy and not dangerous. In the presence of an adult, children are able to surprise and create even more complex objects. I have personally experienced it in numerous exhibitions.
They can do everything. From decoupage to felted wool technique with the needle (there are punchers with security that have been created just for them). The important thing is to devote them time, play and tell stories while working together.
The decorations of this page may help you ;))
Here's the list of our Christmas craft ideas that you can make with them to ...
... build and color some things that belong to Santa Klaus ;))

Santa's house is a dream for every child. Help your children to make it by hand. Once Holiday Season is spent, you can modify it and get into another setting for other games.
His secret corner where he takes a nap ...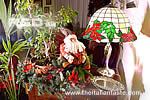 This Christmas decoration is very simple and quick to do. But you must have the right puppet. Suitable for anyone who loves to decorate all the house.
His balloon with led lights ...

Nice, right? It is decorated with Santa's images and has his own colors.
Make it with your children waiting for Holiday Season. A nice way to spend time with them.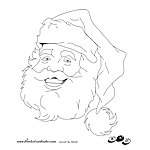 A lot of Santa images, our Santa included. You can also find our adventures lived by Santa traveling around the world to know the desires of the children.
... decorate a Christmas tree linked to a story or a game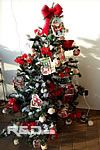 If you have children and are looking for new Christmas decoration ideas, this tree could be the right solution. Your children will enjoy themselves to make pom poms, cut out pictures of Santa and make bows.
What is Santa making at home? let'splay!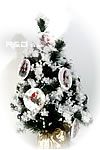 These ornaments are made simply with decoupage that kids love so much. I always see them in trade fairs take part in the various classes with such precision and patience. Sometimes they are more skilled than us adults :)) The nice thing about this tree is that it is a real game. Your kids have to guess what Santa Claus is doing at his home.
What's your name, gnome? Let's play!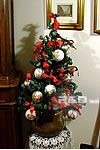 This is another Christmas tree that hides a game. Its balls, made ​​with decoupage, depict gnomes. Your kids have to guess their names with the help of specially created choruses. All children who saw it at my home long played. And you can imagine how insistently asked their parents if they could do so too. Take the idea and play with your children. Besides your children can play with all their friends too.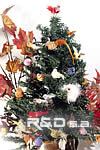 If you have collected a lot of birds over time or have to buy new decorations, get groped by this Christmas tree. It's nice, different from the usual and tells a story whose main character, coincidentally, is just a bird. This tale is read by Fairy Elle, the fairy kid. Discover a new magic world with your kids!

This Christmas tree is very easy to do, colorful and attracts the attention of all kids. But the real news is this: it's another storyteller Christmas tree. The tale is by Fairy Elle, the fairy kid ...

Fairies are the most popular characters from stories. There are a lot of versions. If you have a fairy, this year you could decorate a tree all for her, turning it in her house. You'll need some felt, beads and baguettes, glue and scissors. You could even recycle some items. It is perfect for a baby store too, according to me, as I suggest in the page!
... build other characters, protagonists of winter and some gifts

Do you like this orchestra and chorus made ​​by angels? To make them just collect egg holders and get paper and little else. I assure you that they are nice and your kids will have a lot of fun doing them.

For children awaiting Befana this decoration is a must as it happens in Italy. It can also be made with normal broom. You can increase the Befana size and dress her up as you like. It will be a lot of fun deciding how to dress her with the help of your kids, the real protagonists. Place this decoration out the door! I think it can be a Halloween decoration idea too.
See also Christmas besom, made ​​with the same support. Another idea to use a golden broom in the following years!

The little wood boxes decorated with fruits, flowers and inhabitants of the forest are very nice. Perfect for hiding small gifts, aren't they?
the elf in the woods
Members-only area
The characters of fairy tales always attract a lot children. Elves, gnomes, fairies, witches, ogres ... good or bad. It's the reason why they are now commonly used for Christmas decorations.

The snowman is always a matter of game, for everyone. We can safely trust there. But this snowman is not cold. It's an object of desire to keep in the kid bedroom, through the winter, not only for Holiday season.